Cleaning Compounds and Chemicals
Stingray Indoor Cleaning Tool features nozzle and pad design.
Press Release Summary: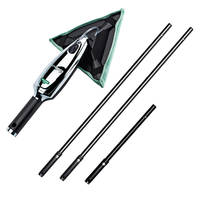 Used for indoor glass maintenance, Stingray Indoor Cleaning Tool uses 39% less cleaning agent and offers 25% faster cleaning than spray and cloth. Allowing users to clean up to 1600 sq.ft of glass using 3M Scotchgard Glass Cleaner and Protector, product can safely reach up to 18 ft from ground. Stingray is suitable for hard to reach areas and features 360 degrees rotatable triangular head.
---
Original Press Release:
Unger Enterprises Launches Stingray: The Ultimate Indoor Cleaning Tool
Innovative Indoor Window Cleaning Tool Now Available to Order
Unger Enterprises is proud to announce the launch of the Unger Stingray -The Ultimate Indoor Cleaning Tool.
Time and cost management are important factors for any successful cleaning professional. When adding services like indoor glass maintenance to a cleaning routine it is critical to ensure the tools used enable a team to work quickly and efficiently.
The Unger Stingray cleans 25% faster and uses 39% less cleaning agent than traditional spray and cloth cleaning. The Unger Stingray will allow users to clean up to 1600 sq. ft. of glass with a single pouch of Stingray 3M Scotchgard Glass Cleaner and Protector.
The Unger Stingray is the Perfect Tool For -
Every Day Maintenance - Cleans windows with ease and keeps them clean
High Access- Safely reaches up to 18 feet from the ground, no ladder necessary
Public Areas- Nozzle and pad design allows for safe cleaning with no airborne chemicals
Hard to Reach Areas - Low-profile, triangular head rotates 360 degrees to reach all areas
Inspired by the power and glide of its namesake, the UNGER Stingray utilized several patent pending features to overcome the challenges associated with indoor glass and window cleaning.
"After countless hours working with end-users and studying the challenges they face our R&D team created a revolutionary tool to help cleaning professionals clean indoor glass faster and better. Stingray is a great example of how we at Unger continue to drive innovation, both in terms of unbeatable functionality but also beautiful, well-thought design."
- John Lombardo, VP Global Sales and Marketing
The Unger Stingray is available in kits that include 3M Scotchgard Glass Cleaner and Protector, Stingray Glass Cleaning Pads, Stingray Extension Pole- Long, Stingray Extension Pole-Short, and Stingray Indoor Cleaning Kit Handheld. The kits range in length from 3 to 10 feet.
About Unger Enterprises
Unger was founded in 1964 by Henry and Barbara Unger and for 50 years Unger has earned a reputation as a global leader in manufacturing professional cleaning and maintenance tools by developing and producing innovative, high quality, ergonomic products.
Unger is the market share leader in window cleaning tools and have become the professional's cleaning tool of choice in more than 80 countries through our commitment to providing the right tools for every task.
Unger has built its business by working with and listening to our business partners and end users to develop solutions that help save time and money, while obtaining superior results. This has been achieved by providing tools and accessories that work most effectively in a total cleaning care system. Unger has been recognized for their innovations globally, most recently PURUS and ISSA Innovation Award.
Unger continues to deliver innovative products to cleaning professionals across the globe. It has offices and manufacturing facilities in the United States and Germany, and sales offices in the United Kingdom and France.
For press inquiries please contact:
Eileen Curran
t:203-366-4884
Related