Stick/TIG Inverter offers 5-150 A welding range.
Press Release Summary: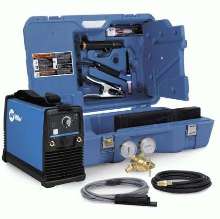 Maxstar® 150 Series includes Stick only, Stick/TIG Lift-Arc start, and Stick/TIG high frequency or Lift-Arc start models. All have Stick output of 150 A at 30% duty cycle, enabling nearly unlimited welding with 1/8 in. diameter Stick electrode. Auto-Line feature allows units to connect to 115-230 Vac single-phase power, ± 10%, and maintains steady arc if primary power varies. Fast Switch technology enables inverters to weigh just 13.7 lb.
---
Original Press Release:

New Maxstar® 150 DC Stick/TIG Inverter Offers Most Welding Power per Pound


o 13.7-lb. for field portability, 5 to 150-amp output with best-of-class arc performance
o Three models available: Simple Stick-only to full-function TIG

APPLETON, Wis., July 28, 2003 For maximum portability and best-of-class arc quality when Stick and TIG welding steel and stainless steel, Miller Electric Mfg. Co.'s new Maxstar® 150 Series of inverters offers the most output per pound of any inverters available. Miller's revolutionary Fast Switch technology enables the Maxstar 150 to weigh just 13.7 lb., have a 5 to 150-amp welding range, provide best-of-class arc performance and run on 115 to 230 VAC primary power. The Maxstar 150 is available in three models: S (Stick-only), STL (Stick/TIG Lift-Arc start) and STH (Stick/TIG high frequency or Lift-Arc start).

All Maxstar 150 models have Stick output of 150 amps at 30 percent duty cycle using 230 VAC power. This enables nearly unlimited welding with a 1/8-in. diameter Stick electrode, which covers approximately 80 percent of all Stick applications. Operators in the maintenance/repair, construction, mechanical contractor, food/beverage/dairy/restaurant, shipboard welding, experimental aircraft and farm/ranch industries all benefit.

"Fast Switch technology enabled Miller to remove weight without sacrificing low-end arc performance or the high-end power of 150 amps of TIG output at 50 percent cycle. That's why the Maxstar is 5 to 10 lb. lighter than competitive units," said Mike Sammons, business unit manager, Miller Electric. "In addition, the Maxstar 150 enhances our reputation as the provider of the industry's most reliable inverters. That's why we confidently offer our True-Blue® three-year factory warranty." This new inverter replaces the Maxstar 140, which had a one-year warranty.

Through its Auto-Line feature, the Maxstar 150 automatically connects to 115 through 230 VAC single-phase power, ± 10 percent. Whether welding in the shop or in the field, operators can plug in the Maxstar 150 and begin welding without delay. Auto-Line also maintains a steady arc even if primary power varies when welding. It overcomes "dirty" power, a common problem in rural areas or on construction sites.

Three Models for Different Needs

The Maxstar 150 S features a Stick-only output and is recommended for welding with E6013 and E7018 electrodes, the most common type of "Stick rod" for general welding repair and fabrication. To prevent the rod from sticking during arc start, which usually creates a weld defect, an Adaptive Hot Start function automatically increases the output amperage at the start of the weld. The front panel of this machine features a single amperage control knob, a ready light and an over-temperature light.

The Maxstar 150 STL features a Stick/TIG output and Miller's Lift-Arc starting method, which provides inclusion-free TIG arc starts without the use of high frequency. A full-function, 6-pin remote control allows the operator to crater out (reduce amperage) at the end of a weld to eliminate crater cracking in critical applications. A selectable trigger configuration allows the operator to choose standard or "2T" trigger method for weld sequence control. A built-in gas solenoid valve eliminates the need for a bulky torch with a gas valve, while a two-setting gas post-flow (0.5 seconds for every 10 amps; 1 second for every 10 amps) allows the operator to select the amount of post-flow to properly cool and protect the weld pool and tungsten.

The Maxstar 150 STH contains all the features of the other machines, plus built-in high frequency (HF) arc starting and pulsing controls. HF starting is a non-contact starting method that eliminates tungsten or material contamination. Welding codes in some applications require non-contact arc starts. Pulsed TIG welding reduces total heat input to prevent warping or burn-through in heat sensitive applications, such as the thin stainless steel found in many food-grade applications. When in the pulsed mode, the Maxstar 150 STH pulses the welding current between the set amperage and a value that is 50 percent of nominal. Pulsing frequency is fixed at 0.5 pulses per second, 1.0 pulses per second, 2.5 pulses per second, or 60 pulses per second.

For more information or to download a product spec sheet, visit Miller's Web site at MillerWelds.com, call 1-800-4-A-MILLER (800-426-4553), fax 877-327-8132 or write to Miller Electric Mfg. Co., P.O. Box 100, Lithonia, GA 30058.

With headquarters in Appleton, Wis., Miller is a leading worldwide manufacturer of arc welding equipment and related systems for metalworking, construction, maintenance and other applications. Miller Electric Mfg. Co. is a wholly owned subsidiary of Illinois Tool Works Inc. (ITW), Glenview, Ill. ITW is a diversified multinational manufacturer of highly engineered components, assemblies and systems.

More from Machinery & Machining Tools