Welding Rods, Wire and Electrodes
Stick Electrode optimizes spot welding quality.
Press Release Summary: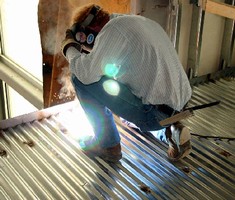 Available in 1/8 or 5/32 in. diameter and 14 in. length, Hobart® Deckmaster(TM) 1139 welds through galvanized, painted, plated, or mildly dirty roof decking. Mild steel stick electrode conforms to AWS A5.1 and produces uniform spot welds with complete penetration. It offers optimized strike and re-strike capabilities to limit rework, as well as low spatter levels and light slag for minimized clean up.
---
Original Press Release:

Hobart Brothers Designs Stick Electrode to Improve Spot Weld Quality



-Specifically designed for welding roof decking

-Produces uniform spot welds with complete penetration

-Easy strike and re-strike with light slag for less cleanup

TROY, Ohio. June 30, 2008-For welding roof decking to support beams and other similar applications that require burn-through spot welds with full penetration, Hobart Brothers offers its Hobart® Deckmaster(TM) 1139 mild steel stick electrode. The Deckmaster 1139 is versatile enough to weld through galvanized, painted, plated or mildly dirty roof decking and still produce the desired penetration, weld quality and strength. It can also be used for rapid downhill welding when joining light gauge materials and sheet metal.

The Deckmaster 1139 offers a smooth, easy-to-control arc that helps welding operators achieve high-quality spot nugget welds, and it also features excellent strike and re-strike capabilities to increase weld efficiency and limit rework. Low spatter levels and a light slag add to the Deckmaster 1139's excellent weld appearance and lessen the time needed for cleanup.

Hobart Brothers offers 50-lb. cartons of Deckmaster 1139 stick electrodes in 1/8- or 5/32-inch diameters in industry-standard lengths of 14 inches. These stick electrodes conform to AWS A5.1 and can be used for a variety of short arc or dragging welding techniques as indicated by this code.

Hobart Brothers is dedicated to the highest level of Performance Welding(TM). For product spec sheets or to learn more about Hobart Brothers and Hobart brand products, visit Hobartbrothers.com, call 1-800-424-1543, fax 1-800-541-6607, or write Hobart Brothers Company, 101 Trade Square East, Troy, OH 45373.

Hobart Brothers Company of Troy, Ohio, is a leading manufacturer of welding filler metals marketed under the brand names Hobart, Tri-Mark, McKay and Corex. Hobart Brothers Company is a wholly owned subsidiary of Illinois Tool Works, Inc., Glenview, Ill., a diversified multinational manufacturer of highly engineered components, assemblies and systems.

More from Test & Measurement