Sterile Absorbent Wound Dressings are water- and wear-resistant.
Press Release Summary: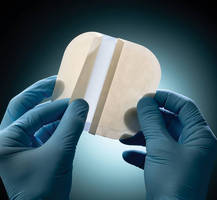 BeneHold™ Absorbent Wound Dressings feature self-adherent wound contact layer that absorbs fluids, aids in healing process, and transforms into soft gel that protects against dehydration. Contact layer remains intact during wear, minimizing wound bed disturbance. Also included is water-resistant polyurethane top film that blocks out contaminants and bacteria, while rounded corners help prevent edge lift. Low-profile dressings are designed to manage exuding chronic and acute wounds.
---
Original Press Release:

Vancive Medical Technologies(TM) Adds New Highly Absorbent Wound Care Dressings to Benehold(TM) Platform



New products on display at MEDICA Hall 06, Stand H07



DÜSSELDORF, GERMANY – Vancive Medical Technologies™, formerly Avery Dennison Medical Solutions, has announced a new range of sterile wound dressings called the BeneHold™ Absorbent Wound Dressing portfolio.* The dressings manage lightly to moderately exuding chronic and acute wounds. The announcement was made at MEDICA 2012, the World Forum for Medicine International Trade Fair. Visit MEDICA Hall 06, Stand H07 for product presentations.



"Our new wound dressings exhibit superior fluid handling capacity, yet are thinner and more conformable to enhance patient comfort," says Barbara Van Rymenam, Vancive Medical Technologies global market segment manager. "We offer the dressings in a variety of formulations and constructions to suit different wound types and conditions."



The BeneHold Absorbent Wound Dressing portfolio is part of the broader BeneHold platform of securement and wound care solutions, available as components or finished products. The BeneHold™ Securement Portfolio consists of the BeneHold™ Medical Tape Strips and the BeneHold™ Tube Fixation Device.



Facilitating a Moist Wound Healing Environment

Products in the BeneHold Absorbent Wound Dressing portfolio are constructed of a self-adherent wound contact layer and a smooth, water-resistant polyurethane top film that acts as a barrier to external contaminants and bacteria. The wound contact layer absorbs exudates, or fluids produced by the wound, and transforms into a soft gel that protects against dehydration.



The contact layer also facilitates granulation, epithelialization and autolysis, which are important parts of the wound healing process. The high water vapor transmission rate and static absorption of the dressings support moist wound healing, without causing skin maceration. The integrated wound contact layer remains intact during wear, reducing potential wound bed disturbance.



The new dressings meet ISO 10993 biocompatibility standards for use as medical devices. Their low-profile design and rounded corners help prevent edge lift, which can compromise a dressing's ability to prevent bacteria from migrating to the wound. There are four types of wound dressings in the portfolio, each offered in multiple sizes:



• Thin Absorbent Wound Dressing, featuring Vancive Thin Absorbent Skin Adhesive technology, with site visualization without dressing removal

• Standard hydrocolloid dressing

• Bordered hydrocolloid dressing with odor control

• Bordered sacral hydrocolloid dressing with odor control



For more information, visit vancive.averydennison.com



*Regulatory clearance pending. Anticipated commercial availability is Q4 2012.



About Vancive Medical Technologies



Vancive Medical Technologies makes inspired advances that lead to intelligent results. The business uses the most advanced adhesive and material technologies to create products that make healthcare easier for everyone. Vancive Medical Technologies is an Avery Dennison business headquartered in Chicago, Illinois. For more information, visit vancive.averydennison.com.



About Avery Dennison



Avery Dennison (NYSE:AVY) is a global leader in labeling and packaging materials and solutions. The company's applications and technologies are an integral part of products used in every major market and industry. With operations in more than 50 countries and 30,000 employees worldwide, Avery

Dennison serves customers with insights and innovations that help make brands more inspiring and the world more intelligent. Headquartered in Pasadena, California, the company reported sales from continuing operations of $6 billion in 2011. Learn more at www.averydennison.com .



Media Contacts

Bob Giuliano

T: +1 610-328-1051

Bob.Giuliano@prplace.biz



Customer Contact

Barbara Van Rymenam

T: +32 49 71 03 233

Barbara.Van.Rymenam@eu.averydennison.com



More from Mechanical Power Transmission