Stereo Earmuffs combine hearing protection with Hi-Fi sound.
Press Release Summary: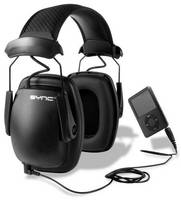 With NRR 25, Sync(TM) sound attenuating earmuffs can be used with MP3 player, mobile phone, or other personal audio device to deliver consistant and proper levels of hearing protection in hazardous noise environments. Headset delivers Hi-Fi stereo sound and integrated Volume Management Technology(TM). Volume and power are controlled through MP3 device, and acoustical bass chamber enhances bass sounds. Comfort and fit are ensured by padded diamond-patterned headband and reinforced forkslides.
---
Original Press Release:

New Sync Stereo Earmuffs from Howard Leight Combine Hearing Protection with High-Fidelity Sound Quality



SMITHFIELD, R.I. - Optimizing acoustical earcup design, volume management technology, and personal hearing protection, Honeywell Safety Products introduces Sync(TM), the next generation of stereo earmuffs from Howard Leight®. Sync delivers the proper levels of hearing protection in hazardous noise environments with high-fidelity stereo sound from users' personal portable audio MP3 players.

"Most stereo earmuffs used in industry today provide a moderate level of hearing protection, but often sacrifice the sound quality of the attached MP3 players - which can work to discourage their use," said Renee S. Bessette, COHC, Global Brand Manager, Howard Leight / Honeywell Safety Products. "In contrast, Sync stereo earmuffs optimize new designs and technologies that provide both hearing protection and true listening enjoyment. Sync entices usage - to deliver protection from noise-induced hearing loss (NIHL) on the job or at home."

Sync stereo earmuffs feature:

Protection from Hazardous Noise - With an NRR 25, Sync provides ideal, consistent hearing protection and ensures appropriate attenuation in most industrial environments. Sync's Volume Management Technology(TM) manages sound levels reaching the user's ear to a safe level.

Plug In and Go - There are no volume knobs or power switches to coordinate nor batteries to replace. Ease-of-use is enhanced by maintaining volume and power control through the MP3 device. Users simply plug MP3 players and personal audio devices and listen.

Personal Listening - Sync can be used with a user's own MP3 player, mobile phone and other personal audio devices, ideal for use at work or at home. Its technologically advanced acoustical bass chamber enhances bass sounds that are typically sacrificed in industrial stereo earmuffs.

Cool, Modern Style - Sync's earcup design is DJ-inspired, and the sound quality is on par with other professional audio headphones. Sync's stylish design easily surpasses other industrial earmuffs. Both comfort and fit are ensured by its padded diamond-patterned headband and its reinforced forkslides that keep it in place when worn.

Sync is now available for ordering through industrial safety distributors in the U.S. and Canada.

For more information, visit www.howardleight.com/playitsafe.

About Howard Leight®

Howard Leight/Honeywell Safety Products is a leading global provider of passive and intelligent hearing protection solutions, and the founder of the HearForever(TM) initiative. For over 30 years, Howard Leight has pursued the prevention of occupational noise-induced hearing loss through innovation in hearing protection design, technology, performance and comfort, and the promotion of progressive Hearing Conservation Programs. Leading solutions include the highest attenuating Max® single-use earplug; patented Air Flow Control(TM) technology for optimal earmuff attenuation; QuietDose(TM) personal in-ear dosimetry; and the industry-changing VeriPRO® earplug fit testing system. Visit: www.howardleight.com.

Visit the Howard Leight website at www.howardleight.com. Follow us on Twitter (@HowardLeight) at twitter.com/HowardLeight.

About Honeywell
Honeywell International (www.honeywell.com) is a Fortune 100 diversified technology and manufacturing leader, serving customers worldwide with aerospace products and services; control technologies for buildings, homes and industry; automotive products; turbochargers; and specialty materials. Based in Morris Township, N.J., Honeywell's shares are traded on the New York, London, and Chicago Stock Exchanges. For more news and information on Honeywell, please visit www.honeywellnow.com.

More from Computer Hardware & Peripherals