Stepper Motors offer performance/application flexibility.
Press Release Summary: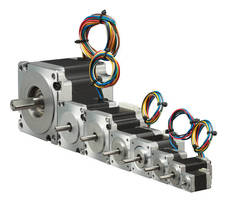 Available in 08, 11, 14, 17, 23, and 34 frame sizes, each with several stack length and winding options, PMX series provides OEMs with flexibility to meet performance and application requirements. Available co-engineering capabilities cover customization of shafts or addition of encoders, gearboxes, etc to facilitate integration into new/existing applications. Featuring CE, RoHS, and REACH compliance, motors also offer minimal drive adjustments with options for 1.8° and 0.9° step angles.
---
Original Press Release:

Kollmorgen Releases Next Generation of Stepper Motors: Broader Range of Frame Sizes, High-Performance Motors



New PMX stepper motors offer Kollmorgen quality, co-engineering and support with short lead times and competitive pricing.



RADFORD, VA – Kollmorgen is pleased to introduce the next generation of stepper motors, the PMX series, adding smaller 08, 11, and 14 frame sizes to the traditional 17, 23 and 34 frame size offering.  Thanks to a wider range of sizes and options, OEMs now have added flexibility to meet multiple performance and application needs from a single motion source. Each frame size is built with high quality construction which translates to reliability in the field and long service life.



Localized Kollmorgen support offers access to immediate technical expertise for design optimization. Kollmorgen's flexible manufacturing means seamless co-engineering capabilities – customizing shafts or adding encoders, gearboxes, etc. – allowing for easier integration into both new and existing applications.



In addition to saving customers time and effort on sourcing, Kollmorgen offers competitive lead times for both standard and custom motors. Short lead times significantly speed up product development and design testing, reducing delays and overall costs. Kollmorgen's competitive pricing means that OEMs no longer have to make tradeoffs on motor quality, performance or technical support to obtain lower costs.



Kollmorgen PMX stepper motors offer:

• Increased design flexibility - six frame sizes (08, 11, 14, 17, 23, 34) each with several stack length and winding options available

• High torque/dollar – High quality performance in an affordable solution

• Minimal drive adjustments - options for 1.8 and 0.9 degree step angles

• Flexible manufacturing –  able to immediately evaluate small modifications and co-engineered solutions for swift delivery and prototyping

• Localized technical support – offering motion expertise and improved delivery, meaning quicker time to market and less downtime.

• Easy to apply worldwide – CE, RoHS, REACH



ABOUT KOLLMORGEN

Kollmorgen is a leading provider of motion systems and components for machine builders around the globe, with over 70 years of motion control design and application expertise. Through world-class knowledge in motion, industry-leading quality and deep expertise in linking and integrating standard and custom products, Kollmorgen delivers breakthrough solutions unmatched in performance, reliability and ease-of-use, giving machine builders an irrefutable marketplace advantage.



For more information visit www.kollmorgen.com, email support@kollmorgen.com, or call 1-540-633-3545.

More from Transportation Industry Products