Stepper Motor delivers smooth motion and quiet operation.
Press Release Summary: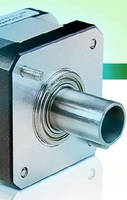 Part of SmoothStep line, Whisper Torque ZH417-11 Stepper Motor with Signature Series Technology can incorporate up to 11 mm ID hollow shaft and still maintain accuracy and torque. NEMA 17, 0.9° motor features patent pending design that has no magnet on rotor. Instead, motor uses ring magnet around stator coils that is sandwiched between stator stack. Since there is no permanent magnet in rotor and only outer edges of rotor are used, large shaft dimensions can be implemented.
---
Original Press Release:

ZH417-11 Whisper Torque Stepper Motor



Taking MOTION CONTROL to the NEXT LEVEL



Morgan Hill, California — Lin Engineering is pleased to release a new addition to its SmoothStep line of stepper motors: the new Whisper Torque ZH417-11 Hollow Shaft Stepper Motor with Signature Series Technology. The new ZH417-11 is a 0.9°, NEMA 17 stepper motor that is perfect for applications that require smooth motion and need the flexibility of a large shaft ID. Its unique design allows your application to run extremely smooth with the added benefit of maintaining high accuracy and torque.



How is the ZH417-11 able to incorporate up to an 11mm ID Hollow Shaft and still maintain its high accuracy and torque?  This new patent pending design has no magnet on the rotor, but instead uses a ring magnet around the stator coils that is sandwiched between the stator stack. Since there is no permanent magnet in the rotor and only the outer edges of the rotor are used, large shaft dimensions can be implemented without lowering motor performance. These patent pending design enhancements give the Whisper Torque ZH417-11 a much higher performance and efficiency as well as the flexibility of a large hollow shaft  ID of up to 11mm.



With this flexibility the SmoothStep ZH417-11 WhisperTorque stepper motor is the optimal choice for applications needing smooth motion and quiet operation without sacrificing performance.



Inquire about the new ZH417-11 WhisperTorque Stepper with Signature Series and begin improving your application's torque and performance!



Not ready? Check out this video to see what makes the ZH417-11 stepper motor so unique and a perfect fit for applications that require smooth motion.



Accurate Motion So Smooth and Quiet You Forget Its Running!



* Evaluation samples are distributed based on certain restrictions.

Please review these conditions.



Lin Engineering Maximizing Torque at Desired Speed

Copyright 2013 @Lin Engineering, Inc. All Rights Reserved