Stepper Motor Controllers and Drives
Stepper Motor Controller has USB interface.
Press Release Summary: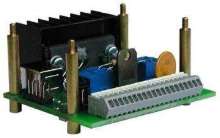 Multifunctional micro-step driver operates bipolar stepping motor by local/remote means. Local control and indication are implemented by 2 knobs and 3 LEDs, while remote control and monitoring are implemented via USB interface from PC. Controller incorporates PWM chopper-type sinusoidal driver, fully integrated mixed-signal System-on-a-Chip MCU, and USB controller on one board. Commands are executed on-the-fly, and all parameters can be saved on PC or in mixed-signal SoC MCU flash memory.
---
Original Press Release:
Stepper Motor Controller with USB interface

Standa developed and now offers new multifunctional Stepper Motor Controller (Micro step Driver) with USB interface:

Resolution: full step, 1/2, 1/4, 1/8

Speed up to 5000 steps/s

Programmable speed and trip points

Programmable accel and decel ramps

Soft start/stop mode

Opto-isolated synchronization I/O

Remote control via USB 1.1 or 2.0 Full Speed (12 Mbps) interface Graphical user interface for Windows 98/2000/XP Dynamic link library for host programming Set of virtual instruments for NationalInstruments Lab VIEW

This stepper motor controller is designed to drive one bipolar stepping motor by local and/or remote means. Local control and indication are implemented by two knobs and three LEDs. Remote control and monitoring are implemented via USB interface from PC. Inputs for two limit switches, emergency switch and revolution sensor are provided. Controller incorporates PWM chopper type sinusoidal micro step bipolar stepping motor driver, fully integrated mixed-signal System-on-a-Chip MCU and USB controller on one board. Rated current for each stepping motor is set by selection of two current sense resistors. Controller features include built-in over temperature, over voltage, short circuit and reverse supply protections. There is a potential of 40% current reduction in hold mode. In order to improve the high speed performance and to reduce heating separate supply for logic and stepping motor is used. Emergency limit switch for unconditional stepping motor power down is available. It may be utilized when safety is necessary. All external connections are implemented on one 20 pin terminal block without soldering. The built-in powerful MCU on the controller allows the user, via USB interface, to control parameters such as position, acceleration/deceleration ramps, velocity, direction, resolution, drive current, etc., to form simple or complex motions. Most of all commands are executed on-the-fly. All parameters can be saved on PC or in MCU flash memory. The controller does not require power supply via USB. It is possible to set up to 30 devices per USB host. In this case is convenient to use USB hubs.

See further information at: www.standa.lt/products/catalog/motorised_positioners?item=175
More from Machinery & Machining Tools