Step Motor includes drive/control board.
Press Release Summary: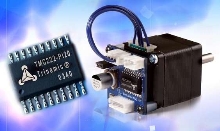 MiniPak combines NEMA Size 11, 1.8° step motor with drive/control board using Trinamic TMC222 drive chip. Motor measures 1.1 in.² and produces 9.2 oz-in. of holding torque. Operating from 8-29 Vdc, drive board has programmable coil current up to 800 mA and is capable of 2x-16x microstepping. It contains fixed frequency PWM current control with automatic selection of fast and slow decay mode as well as built-in ramp generator for autonomous positioning and speed control.
---
Original Press Release:

Trinamic TMC Drive Chips and Lin Engineering Step Motors - The Perfect Combination


Santa Clara, CA-July 2005- Lin Engineering, the Step Motor Specialists, in conjunction with Trinamic Motion Control are pleased to announce the release of the MiniPak. This integrated product combines a Lin size 11 step motor and a drive/control board using the Trinamic TMC222 drive chip; making it the perfect combination for small applications.

The Nema size 11, 1.8 degree motor measures a mere 1.1" square and is currently available with a length of 1.24". It provides high torque in a small package. The 211-13 produces 9.2 oz-in of holding torque.

The mounted drive board, which utilizes the TMC222 which utilizes an I²C interface has a programmable Coil current of up to 800 mA, a voltage operating range from 8VDC to 29VDC and is capable of 2x to 16x microstepping. The driver board contains a fixed frequency PWM current control with automatic selection of fast and slow decay mode as well as a built-in ramp generator for autonomous positioning and speed control. Another convenient feature is the ability for on-the-fly alterations of target position.

The MCU unit, which is sold separately, adds RS485, homing, two-module handling, parameter storage, constant velocity mode, two demo modes, and ASCII interface. When the MiniPak is used along with the MCU board the user can daisy chain up to 32 axes. For the ultimate convenience, Lin Engineering is offering the MiniPak Designer's Kit which includes the MCU board, the UBS485 as well as the necessary cables for easy installation.

Industries which may find the MiniPak Series a perfect fit are medical, robotics and communications.

For more information on Lin Engineering's motor with TMC 222, please contact us at 408-919-0200 or email us as sales@linengineering.com

More from Computer Hardware & Peripherals