Stencil Coating Wipe renders stencil surface fluxophobic.
Press Release Summary: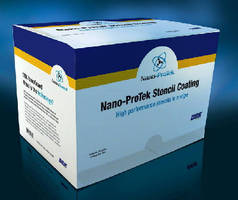 Forming chemical bond with stencil surface, DEK Nano-ProTek minimizes ability of flux to stick to aperture and bottom side of stencil, enabling stainless steel or nickel stencils to be easily cleaned for optimal results. Wipe optimizes both capacity of understencil cleaner and gasketing of stencil to PCB. It can be applied to new and existing stencils at room temperature and may be re-applied as required.
---
Original Press Release:

DEK Launches Breakthrough New 'Fluxophobic' Stencil Coating Technology



DEK has launched a brand new stencil coating technology that delivers high performance stencils, in a wipe. Being offered at an unprecedented price-point, the easy-to-apply DEK Nano-ProTek increases cleaning effectiveness and reduces cleaning frequency thanks to a unique proprietary formula that renders the stencil surface 'fluxophobic'.

Nano-ProTek technology from DEK is designed to address key challenges currently preventing today's stencil industry from achieving true process optimisation. As apertures get smaller, the trend impacts negatively on paste release, leading to contamination in the stencil and an increased risk of defects. In addition to driving poorer paste release, smaller apertures also require more frequent cleaning - reducing efficiency and increasing consumables requirements. However, the introduction of the easy-to-use Nano-ProTek wipe offers a solution, forming a chemical bond with the stencil surface to reduce the ability of the flux to stick to apertures and the bottom side of the stencil. Enhancing the capacity of the understencil cleaner and improving the gasketing of the stencil to the PCB, the result is a substantially greater first pass yield.

Commenting on the launch of DEK Nano-ProTek, the company's Global Franchise and Product Manager, Michael Zahn, explains: "Nano-ProTek is an extremely important breakthrough for the stencil industry. Never before has such a high performance stencil coating technology been so cost-effective, accessible and easy to use. A unique technology invented by DEK, Nano-ProTek takes just 30 seconds after application to render the entirety of the surface it has coated completely fluxophobic. Enhanced paste release, reduced cleaning requirements, minimal consumables cost, higher productivity - the benefits of DEK Nano-ProTek are vast. Not only does the coating enhance the capability of new stencils, but it can also be used to achieve more with all existing stencils. DEK Nano-ProTek is more evidence of our Expect More philosophy in action - and it's also an important industry first!"

The Nano-ProTek wipes are based on a unique proprietary technology, which is designed to coat surfaces to impart fluxophobicity. Covalently bound to the substrate surface, the technology enables stainless steel or nickel stencils to be cleaned easily for high performance results. The resultant permanent chemical bond is highly stable under ambient conditions. Unlike competing technologies available at a considerably higher cost, DEK Nano-ProTek wipes do not require additional capital equipment and can be applied to new and existing stencils. Available to DEK customers worldwide, the highly durable technology is extremely easy to use, can be applied at room temperature by the end user without training and can be re-applied as required. Find out more at www.dek.com

About DEK

DEK is a global provider of advanced materials deposition technologies and support solutions including printing equipment platforms, stencils, precision screens and mass imaging processes used across a wide range of applications in electronics pre-placement subassembly, semiconductor wafer manufacture, and alternative energy component production. For more information, visit DEK at www.dek.com.

Company Contact

Press Contact

Karen Moore-Watts

DEK

Tel: +44 1305 760760

Email: kmoore-watts@dek.com

Internet: www.dek.com

More from Material Processing