Steering Systems target commercial vehicles.
Press Release Summary: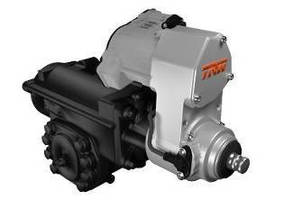 Merging hydraulic power steering for commercial vehicles with electrically powered steering belt drive for passenger cars, ReAX helps minimize steering efforts at low speeds while yielding stability at higher speeds. ReAX can also enable semi-automated driving functions and advanced driver assist systems. ActivMode Hydraulic Pump, utilizing dual mode flow logic, helps save fuel and minimize temperature by matching steering system flow demand during engine idle and cruising speed.
---
Original Press Release:

TRW Highlights Commercial Steering Innovations At IAA Commercial Vehicles Show in Hanover



HANOVER, Germany, – TRW Automotive Holdings Corp. (NYSE: TRW), is launching two new commercial steering technologies at the IAA Commercial Vehicles show which opened in Hanover today. The first, named ReAX, merges two of TRW's proven steering systems - hydraulic power steering (HPS) for commercial vehicles and electrically powered steering (EPS) belt drive for passenger cars - to help improve driver control and stability. The second is the ActivMode energy efficient hydraulic power steering pump which can deliver up to 50 percent reduction in energy consumption compared with traditional pumps in specific configurations.



Andreas Weller, vice president and general manager, Global Commercial Steering Systems at TRW commented: "Global automotive megatrends such as safety, comfort and efficiency are becoming increasingly prominent in the commercial vehicle sector, and even more so when you consider that the truck is a workplace where drivers spend lengthy periods of time every day. Our commercial steering efforts are very much focused on making the driving task as safe and comfortable as possible, while minimizing the impact of our technologies on the environment.



"With ReAX, traditional hydraulic power steering provides the torque required to steer larger commercial vehicles while EPS belt drive offers precision and control. Uniting these two technologies reduces steering efforts at low speeds and yields increased stability at higher speeds. TRW has more than a decade of experience in combining these two technologies using a column drive variant - primarily for bus and motor home applications. Building on that experience, we are now leveraging belt drive EPS to offer an ideal solution for trucks.  



"In addition, ReAX can enable semi-automated driving functions and advanced driver assist systems including lane departure warning and lane keeping assist which can further enhance safety and comfort."



TRW's ActivMode pump achieves its fuel savings and temperature reduction by utilizing unique dual mode flow logic. This flow logic is aligned to match steering system flow demand in the two primary operating states of a commercial vehicle, engine idle and cruising speed. At low engine speed, both sides of the circuit are utilized to provide full flow to meet the demand of the steering system. At cruising speed, one side of the circuit is hydraulically disengaged to minimize pump action and reduce power consumption.



Weller continued: "ActivMode is designed for minimum complexity, requiring no electronics or sensors to achieve its unique flow logic.  This also helps it to be smaller and lighter than other energy efficient power steering pumps and fit within current vehicle architectures. Additionally, its ability to operate at lower temperatures provides customers with the opportunity to eliminate steering system coolers in many applications. This further reduces system complexity and vehicle weight.



"Overall, ActivMode is able to save the equivalent of 200 liters of fuel per 100,000 kilometers driven."



TRW anticipates that its ReAX system will be ready for production in 2017 for 2018 calendar applications and is currently working with a major vehicle manufacturer to research and develop semi-autonomous vehicle functions using the technology. ActivMode is estimated to be ready for production in 2016 for 2017 calendar year applications.



About TRW

With 2013 sales of $17.4 billion, TRW Automotive ranks among the world's leading automotive suppliers. Headquartered in Livonia, Michigan, USA, the Company, through its subsidiaries, operates in 24 countries and employs approximately 65,000 people worldwide.  TRW Automotive products include integrated vehicle control and driver assist systems, braking systems, steering systems, suspension systems, occupant safety systems (seat belts and airbags), electronics, engine components, fastening systems and aftermarket replacement parts and services.  All references to "TRW Automotive", "TRW" or the "Company" in this press release refer to TRW Automotive Holdings Corp. and its subsidiaries, unless otherwise indicated.  TRW Automotive news is available on the internet at www.trw.com. 



CONTACT:

Louise Colledge

TRW Automotive

+44.121.506.5317 

louise.colledge@trw.com



Web Site: http://www.trwauto.com

Related