Steel Tracks are designed for use with skid-steers.
Press Release Summary: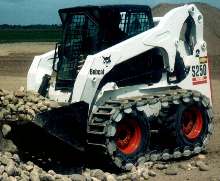 Loegering Z-Track provides aggressive traction and side-hill stability. Hammer-forged steel traction cleats are wear-resistant, self-cleaning, and provide skid-steer control. Tracks attach via customized installation tool, and reinstallation takes typically less than 30 min. Rebuildable tracks are fully adjustable due to their 3-hole link. Products utilize threaded Dura Pins with index feature to lock pins in place.
---
Original Press Release:
Loegering Expands Line of Steel Tracks for Skid Steers
Loegering now offers 2 lines of steel tracks for skid-steers. Casselton, North Dakota - Loegering is the original skid-steer track manufacturer and no one does it better. We've now expanded our traction product offering to include the Loegering Z-Track. This track was designed to capitalize on the added traction skid-steer operator's need. The Z-track has all the benefits of the Loegering F-Series Steel Track plus even more aggressive traction and excellent side-hill stability. The hammer-forged steel traction cleats are the most wear resistant. The tracks also offer a smooth ride and less operator fatigue than similar traction products. The traction cleats are self-cleaning and give exceptional skid-steer control. Tracks extend the tire life and are easy on the drive-train. The tracks attach quickly and easily with a customized installation tool. After initial installation, Loegering's track system allows customers to reinstall the track in less than 30 minutes. The tracks are fully adjustable rebuildable, making them the ultimate value. Loegering's three-hole link allows for numerous points where the track can be adjusted. Threaded Dura Pins are extremely durable and designed for easy replacement in the field. These Pins are 57% more wear resistant, and have a fool-proof index feature that allows the pin to be inserted only one way and locks the pin into place. Loegering, the original skid-steer track manufacturer, has been building tracks for over 30 years and tracking self-propelled booms since 1977. The company designs and produces tracks and attachments for distribution worldwide. Loegerng's Mission: Be a steward of excellence by building on our foundation of quality products, customer service, profitability and ethical treatment of people. For more information contact: Becky Fix, Marketing & PR Specialist, beckyf@loegering.com
More from Services