Steel Proximity Sensors monitor ferrous metal components.
Press Release Summary: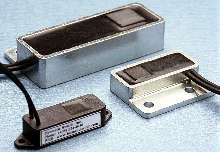 With built-in relay contacts, PRX+4000 sensors respond to proximity of ferrous material and report relative position of elements that require continuous monitoring. No power is required for sensors to operate and no physical contact is required for activation. Features include SPST Form A contact arrangement, switching ratings of 120 V, and operating distances of 0.250-0.400 in. Construction resists contaminants, moisture, and vibration.
---
Original Press Release:

New Patented Durable Steel Proximity Sensors Address Safety & Productivity


Hermetic's PRX+4000 Sensors Are Ideal for Applications Where Position Sensing of Ferrous Metal Components is Critical

November 17, 2003, Chickasha, OK (USA) - Hermetic Switch, Inc. announces the introduction of its patented PRX+4000 series of steel proximity sensors. This series provides the market with durable, ready-to-install steel proximity sensors for use in applications where the position of a ferrous metal component or ancillary part must be monitored to ensure operator safety and productivity.

Applications for the heavy duty PRX+4000 sensors include use as safety switches and presence sensors in commercial mowers, agricultural equipment, construction equipment, industrial equipment and manufacturing applications where the position of steel safety levers, mechanical arms, presence platforms, mower-decks, access doors or other steel components must be monitored. These sensors can also be utilized in military and gaming applications, valve positioning/fluid monitoring devices, security systems, material handling, automation, control systems, robotics - and essentially any application which can benefit from the steel sensing capabilities provided by these novel sensors.

These sensors can sense and switch high energy loads because the relay contacts are built in. In use, each sensor responds to the proximity of ferrous material and reports the relative position of specific application elements that require continuous monitoring. This helps to ensure safe and productive operation of the equipment.

Unlike mechanical, lever-arm sensors, the PRX+4000 series is designed to perform in the most demanding environments. Their rugged construction enables these steel sensors to be used effectively with applications that come in contact with dirt, dust, grass, pesticides, gasoline, grease, lubricants, transmission fluid, grime, moisture, rough terrain and vibration. Two of the sensor models in the PRX+4000 series can be mounted directly to ferrous surfaces.

No power is required for these sensors to operate and no physical contact of any kind is required for sensor activation. In fact, the PRX+4000 sensors can detect steel through nonferrous materials such as plastic, wood, brass and non-magnetic stainless steel - a feature which enhances their versatility and utility.

Specifications for this line of steel sensors include SPST Form A (B & C available) Contact Arrangement, Switching Ratings of 120 Volts (DC/AC max) and Operating Temperature Range of -40°C to +100°C. Other technical specs for the PRX steel sensor vary with specific model but encompass: Switching Ratings of .25 amps to 3 amps (DC/AC max) and 10 watts to 200 watts (DC/AC max); Operating Distances of 0.250 to 0.400 inches; Release Distances of 0.310 to 0.675 inches and Wire Gauges of 16 AWG to 20 AWG. All steel sensor models are available with custom housings, wires and connectors to meet application-specific requirements.

The three models in this patented series are the PRX+4800 (largest and most robust with steel housing), the PRX+4400 (medium size and extremely tough with steel housing) and the PRX+4100 (smallest but very durable with high impact ABS housing).

For customizing options or other information please contact Hermetic Switch at (405) 224-4046 or your local sales representative. Pricing on these sensors depends on model type but generally ranges from $5.00 to $15.00 each for order quantities of 1000 units.

The PRX+4000 series of steel sensors complements Hermetic Switch's extensive product lines. Hermetic's reed switch product line includes micro-miniature, miniature, high-reliability, implantable, heavy-duty, high-power, high-voltage and radio frequency switches. The company's proximity sensor product line includes tubular, surface mount, industrial, alarm, low profile and high power designs. Hermetic Switch offers sensors with custom housings, connectors, wires/harnesses and other customer-specified features. The company also provides permanent magnets and standard test coils to the market.

Hermetic Switch (est. 1968) is a privately held, ISO-9001:2000 certified company that designs, develops and manufactures reed switches, proximity sensors and other switch technologies that respond to customer needs. The company provides switching and sensing solutions to many industries including medical, aerospace, telecommunications, military, fluid processing, computer/electronic, construction, security, agricultural and lawn/garden/turf. Specific applications where Hermetic products are used include pacemakers, defibrillators, Vagus nerve stimulators, hearing aids, space station/space shuttle functions, commercial and military jet engines, wireless devices, valve-position monitoring devices, test, measurement and diagnostic equipment (TMDE), burglar alarms, commercial lawn mowers and countless others. Customers include numerous Fortune 500 companies like General Electric, Tyco, Textron, Boeing, Northrop Grumman, Honeywell and Siemens as well as other key players in the global marketplace. For more information call 405-224-4046 or go to hermeticswitch.com.

More from Architectural & Civil Engineering Products