Material Handling and Storage Racks
Steel King Announces SK2000® Closed-Tube Roll Form Rack Systems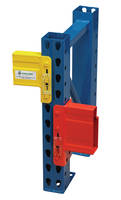 Fully welded tubular uprights give rack system superior impact and torsional resistance
Steel King Industries, Inc., Steel King will be showcasing its patented pallet rack and custom shipping rack solutions at MODEX 2020, March 9 -12, at the Georgia World Congress Center in Atlanta, Georgia. The highlight of booth 7839 will be a two-level display of the SK2000®, in addition to structural pallet rack, Steel Guard® heavy duty guard rail, and gravity flow and pushback racking systems. Booth 7836 will feature shipping rack and container products.
Steel King is proud to be celebrating its 50th anniversary at MODEX and throughout 2020.
Steel King announces the availability of SK2000 closed-tube roll form rack systems. The SK2000 features a fully welded tubular upright, giving the racks superior impact resistance over open-back style uprights and is ideal for a wide range of warehouse applications and markets including food and beverage, retail, agriculture, and automotive. Because the SK2000 is roll-form steel, it is cost-effective for small storage applications, and has the strength and durability to provide the framework for a multi-level pick module/distribution center.
The strength of the SK2000's closed tube beams and upright rack frames make each rack system safer and more functional. Independent engineering tests have confirmed that, when compared to open back column, SK2000® pallet racking has 250% greater frontal impact strength, 68% greater side impact resistance, and 44 times greater torsional strength (resistance to twisting).
SK2000 columns have a unique 90 degree bend and no corner holes. The SK2000 is a boltless rack system with teardrop connections and auto-engaging safety locks, meaning that it can be assembled without tools. Easy, boltless assembly of the system enables more flexibility for any future adjustments. "Depending on future needs, with boltless assembly you can add the pick module, move it, or build another as needed," explains Kyle Arndt, a Werner Electric Supply project manager.
Columns are available in multiple sizes and thicknesses according to application needs. The system's braces and step beams are made from the same high strength closed tubing as the columns and are available in many profiles and lengths. Bracing is secured with full fillet weld, which in many cases is four times more weld than competing rack systems. The SK2000's three-rivet connection offer 26% greater strength than a two-rivet connection. In addition, the SK2000 is made with 100% U.S. steel.
Steel King also offers additional safety and durability accessories for the SK2000 rack systems, such as factory-installed Column Core inserts that can stand up to even the most demanding applications with frequent forklift loading and unloading, and therefore the greatest risk of collision.
For more information about Steel King and the SK2000 closed-tube roll form rack system, visit: https://www.steelking.com/products/pallet-rack-boltless-closed-tube/.
About Us
Steel King Industries, Inc., is a leading manufacturer and integrator of material handling products and systems for improving operational efficiency in manufacturing, assembly, distribution centers, storage facilities, and warehousing.
Steel King is the nation's only single-source manufacturer of pallet racks, drive in rack, flow rack, pushback rack, pick modules, mezzanines, cantilever racks, portable racks, industrial containers, custom shipping racks, and industrial safety guard railing.
Uniquely qualified to assist customers in planning and executing material handling systems, Steel King delivers reduced operation costs and increased customer satisfaction across a range of applications.
For additional information visit www.steelking.com or call 800.826.0203.
CONTACT: Kristin Nugent
McNeil, Gray & Rice
617-367-0100, ext. 148
kristin.nugent@mgr1.com
Contact This Company Download Spec Sheet
More from Electrical Equipment & Systems