Steel Enclosures protect electrical controls and instruments.
Press Release Summary: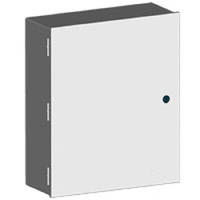 Available in carbon steel, galvannealed steel, and 304 stainless steel, Series CSE-N1, CSE-KN, CSE-3R, and SSE come in sizes ranging from 10 x 8 x 4 in. to 36 x 30 x 8 in. Wall-mounted units are offered in water-tight and dust-tight versions with optional drip shields and optional keyed locks to keep important instrumentation safe. In addition, sub-panels and mounting straps/feet make installation convenient.
---
Original Press Release:

NEW! Series CSE-N1, CSE-KN, CSE-3R & SSE Steel Enclosures



Dwyer Instruments, Inc., the preferred source for your complete range of practical and affordable instrumentation, is announcing the release of its NEW SERIES CSE-N1, CSE-KN, CSE-3R, & SSE Steel enclosures.



These UL approved enclosures are the answer to all your protection needs. With carbon steel, galvannealed steel, and 304 stainless steel enclosures ranging from 10"×8"×4" to 36"×30"×8" (25.4×20.3×10.2 cm to 91.4×76.2×30.3 cm), there is an enclosure to suit all of your needs. If you are looking for superior protection, look no further. We offer water-tight and dust-tight enclosures along with optional drip shields and optional keyed locks to keep your important instrumentation as safe as possible. To top it all off, Dwyer Instruments, Inc. is offering sub-panels and mounting straps/feet to make your installation as convenient as possible. These enclosures are competitively priced and start at $36.50. 



Complete details are available on our website @ http://www.dwyer-inst.com/Product/ProcessControl/ControlEnclosures/SeriesCSE-KN

http://www.dwyer-inst.com/Product/ProcessControl/ControlEnclosures/SeriesCSE-N1

http://www.dwyer-inst.com/Product/ProcessControl/ControlEnclosures/SeriesCSE-3R

http://www.dwyer-inst.com/Product/ProcessControl/ControlEnclosures/SeriesSSE



Dwyer Instruments, Inc.

P.O. Box 373

Michigan City, IN 46361

Phone: (800) 872-9141 or (219) 879-8000

Fax: (219) 872-9057

Internet address: http://www.dwyer-inst.com/

E-mail:

[email protected]