Steel Cable/Hose Carrier balances weight and strength.
Press Release Summary: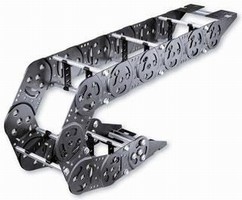 Resistant to extreme heat and cold, VARITRAK LS/LSX 1050 systems protect and guide moving cables and hoses in automated machinery applications. They balance weight and load bearing capabilities via weight-optimized side plate geometry, while VARITRAK frame-stay system offers cavity width customizable to 1 mm as well as range of cavity partitioning and functionality options. Side bands are available in high-strength steel (LS 1050) or stainless steel (LSX 1050).
---
Original Press Release:

New Light-Weight Steel Cable and Hose Carrier from KabelSchlepp is 40% Lighter than Traditional Steel Carriers, yet Significantly Stronger and Resistant to Extreme Heat and Cold than Plastic Cable Carriers



MILWAUKEE, WI - September 26, 2007 - KabelSchlepp, the industry-leading developer of VARITRAK Cable and Hose Carrier Systems, LIFE-LINE Hi-Flex, Continuous Bending Cables for Motion, and TOTALTRAX Turn-Key Cable & Hose Carrier System Assemblies, unveils its new VARITRAK LS/LSX 1050 line of light-weight, steel cable and hose carrier systems for protecting and guiding moving cables and hoses in a wide range of automated machinery applications.

VARITRAK LS/LSX 1050 cable carriers can be used in applications where traditional steel cable carriers have proven to be too heavy or expensive, and where plastic cable carriers were not optimal because they required extra load bearing support or would not hold up to environmental factors such as the extreme heat or cold and debris like red hot chips or weld splatter found in many of today's factories and mills which can cause significant damage to most plastic cable and hose carrier systems.

The new LS 1050 and LSX 1050 steel cable carriers have been specifically designed to minimize weight while still maintaining exceptional strength and load bearing capabilities. The LS/LSX 1050's new weight-optimized side plate geometry yields a lighter weight steel chain that is significantly more sturdy and robust than comparably sized plastic cable carrier chains. For machine automation applications requiring motion, that means: greater accelerations and speeds and higher additional loads with lower required tow force.

VARITRAK LS/LSX Key Features:
o Approximately 40% lighter than standard series steel cable carrier systems.
o Longer unsupported travel lengths are possible than with plastic cable carrier systems.
o Side bands are available in high strength steel (LS 1050) or stainless steel (LSX 1050).
o Uses the proven VARITRAK frame-stay system, offering cavity width that is customizable to the millemeter, and a wide range of cavity partitioning and functionality options.

About KabelSchlepp

KabelSchlepp G.m.b.H was first founded in 1954 with its introduction of the industry's first modern cable and hose carrier chain. Since then, KabelSchlepp has remained focused on its core competency of introducing innovative products for protecting moving cables and hoses in motion applications. Offering a complete line of steel and plastic cable carrier systems, with over 100,000 easily customized configurations from standard, stocked components, almost any dynamic cable and hose management and protection need can be quickly, accurately, and effectively fulfilled from any one of KabelSchlepp's many manufacturing, distribution, and support facilities strategically located around the globe.

KabelSchlepp's North American division, KabelSchlepp America, Inc., is centrally located in Milwaukee, Wisconsin. This facility has received and operates under both ISO-9001:2000 (KSA) and TS-16949 (KTX) quality certifications. With nearly 60,000 square feet of design, service, warehouse, assembly and manufacturing, KabelSchlepp's heavy local investment in its KabelSchlepp America facility is a testament to the importance it has always placed on the North American market.

For more information or hi-res photos, contact:
Larry Harvey, KabelSchlepp America Inc. Ph: 414-354-1994 E-mail: lharvey@kabelschlepp.com

More from Food Processing & Preparation