Steam Turbines range from 1-600 hp.
Press Release Summary: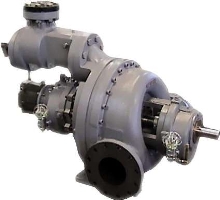 Single-stage Series 400RT is available in sizes from .75-450 kW with pressures to 700 psig and temperatures to 825°F. Dual exhaust outlets are symmetrically located and can be used individually or jointly. Idealube lubrication system automatically provides flood, splash, and mist lubrication when required. Monolithic wheel design is standardized and includes stainless steel milled style blading, metallurgically combined with alloy steel wheels.
---
Original Press Release:

Dresser-Rand Introduces 400RT Series Steam Turbines


Single stage units offer highest reliability in the one to 600 horsepower range

WELLSVILLE, New York, (May 19, 2005) - Dresser-Rand is offering a new line of single-stage steam turbines, providing API application clients and general industry markets with a rugged and versatile low-horsepower turbine, designed to be equally suited for new or retrofit applications.

For pump drive applications, as well as fan, mill and generator-drive services, the Dresser-Rand 400RT series turbines have unique design features that make them easier to install and maintain, thus reducing life cycle cost and increasing value.

The 400RT horizontal model is available in sizes ranging from one horsepower (.75 kilowatts) to 600 hp (450 kilowatts) with pressures to 700 psig (48 bar) and temperatures to 825 degrees Fahrenheit (440 degrees Celsius). Units range in weight from 1,750 lbs (794.5 kg) to 1,850 lbs (839.9 kg). The vertically configured 400VRT models are designed to meet the broad range of installation requirements.

The unique "Idealube" lubrication system of the D-R 400RT steam turbine makes it possible to operate the unit at higher speeds and temperatures without an external lubrication system. By automatically providing flood, splash and mist lubrication when required, the Idealube system requires no filters or coolers, and uses less water than forced feed lubrication. "This provides a significant advantage in installation, operating and even maintenance costs," said Mike McGuinness, sales and marketing manager for Dresser-Rand's Single Stage Turbine Strategic Business Unit. "The machine has a number of features that make it easier for retrofitting to existing installations."

The dual exhaust capability of the new D-R turbines allows equipment operators to change out an older unit and use existing piping to couple with either side of the new 400RT turbine. The exhaust outlets are symmetrically located and can be used individually or jointly, as required.

The 400RT series turbines are the first single-stage turbines in the world to be designed with cutting-edge solid modeling, finite element analysis, proprietary rotor dynamics and stress-analysis software. The low-cost turbines use state-of-the-art components including proven advanced seals, casings and nozzles. The highest standards of metallurgy, machining and fabrication ensure that the 400RT is built to meet the extreme usage demands of API and general industry operations.

"One of the most significant advantages of this turbine is the standardized frame," McGuinness said. "Each turbine is designed with the same wheel size, allowing us to replace existing turbines with a single frame size, and all typical wearing parts would be universal." The monolithic wheel design is standardized and includes stainless steel milled style blading, metalurgically combined with alloy steel wheels. The wheel assemblies have been heat-treated to withstand up to 30 times the blade loading of conventional drawn or punched blades.

With more than 100 years experience, and more than 70,000 units shipped to installations around the world, Dresser-Rand is a recognized leader in steam turbine technology. "The 400RT turbines deliver the same levels of performance, reliability and value of our larger frame high-horsepower machines," McGuinness added. "With the introduction of these units, we have a turbine solution for every requirement."

D-R's experienced, global service team will support all 400RT steam turbines, and each turbine comes with a two-year operational warranty.

For more information about D-R's 400RT series steam turbines, or about any of the other steam turbine products offered by the company, visit the company's web site at: www.dresser-rand.com.

Dresser-Rand is among the largest global suppliers of rotating equipment solutions to the worldwide oil, gas, petrochemical and process industries. Facilities include a network of 24 service and support centers covering 105 countries, and manufacturing facilities in the United States, France, Germany, Norway, India, and Brazil.

For more information, contact:
Wayne Andrews, (716) 375-3990
Communications Coordinator
DRESSER-RAND
Paul Clark Drive, P.O. Box 560
Olean, NY 14760
Email: wayne_andrews@dresser-rand.com

More from Communication Systems & Equipment