Steam Tunnel features over 1,000 inches of live shrink area.
Press Release Summary: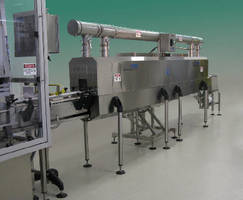 Featuring dual-wall, dual-zone design, Model KST 140-712 is engineered for packagers of food, beverages, and personal care products that require 300 cpm capacity without complexity of multiple tunnels. System provides 5 pairs of steam tubes in each of 2 zones. Each row is externally adjustable for steam volume, flow, and rotary position. For precise steam regulation, tunnel utilizes condensate traps, steam filtration, step-down regulators, steam valve, and electronic regulator.
---
Original Press Release:

Fast, Flexible Steam Tunnel is Lean, Practical Alternative to Multiple Tunnel Configuration



- Featuring over 1000 inches of live shrink area -

Norwalk, CT. PDC International Corporation, a world leader in high-volume shrink tunnels and shrink label application technology, has introduced a unique, multi-use steam tunnel. The system, the KST 140-712 Dual Zone Steam Tunnel, was engineered specifically for packagers of food, beverages and personal care products who want 300 cpm capacity without the cost and complexity of multiple tunnels.

The robust, high-speed KST 140-712 tunnel accommodates the broadest range of containers, including those that have proven difficult to shrink consistently in traditional tunnels, and those that have required a second tunnel to complete the task.

The KST 140-712 is a dual-wall, dual-zone system providing over 1000" of live shrink area via five pairs of steam tubes in each of the two zones. Each row is externally adjustable for steam volume, flow and rotary position. A proprietary nozzle positioner allows the highly focused application of steam to specific points on the package. Adjustments can be made "on the fly," saving both utility costs and production time, since there is no need for cool-down or ramp up during adjustment.

Steam regulation is critical to the high performance of the KST 140-712 and five features of the system work together to make sure it is both precise and predictable. These features include special condensate traps, steam filtration, use of step-down regulators, a steam valve that is unique to PDC, and electronic regulation.

The Electronic Regulator developed by PDC monitors tunnel temperatures in real time, and automatically adjusts steam release to synchronize with the "thermal loads" of incoming product. This is particularly valuable when the system is running full or cold containers. A digital controller indicates the set temperature, actual temperature, and "percent open" for the main steam valve, and precisely controls the chamber temperature.

Among the KST 140's many important standard features are integrated chambers for steam venting, at both the infeed and tunnel discharge, which preclude the need for specialized add-on venting.

The KST 140 is suitable for containers that are filled or empty, and virtually any shape, including round, oval, square or asymmetrical. PVC, PETG, OPS and PLA films, in gauges as thin as 30 micron, all shrink uniformly in the KST 140.

The system mounts over existing conveyors, or PDC can supply conveyors appropriate for steam environments. Optional features include integrated counters for filled packages that contain aerosols or other combustibles, tunnel lift stands, and devices for managing condensate and steam venting, as well as steam generators.

PDC offers a heated shroud that covers empty containers while inside the tunnel preventing condensate drip and minimizing moisture inside bottles, a condensate diverter package and culinary grade steam filter. Steam venting options include a stainless manifold with dampers to meter steam exhaust, and a blower stand with VFD (variable frequency drive).

The KST 140-712 is an excellent solution for end-users and contract packers who need an exceptionally flexible and reliable shrink tunnel at a very economical cost. Standard opening dimensions for the KST 140 are 7" wide X 12" high.

Like all PDC steam tunnels, the KST 140 is manufactured in the USA using high quality, standard components that are readily available. This assures that the system will be easy and inexpensive to maintain throughout its long service life.

PDC manufactures shrink tunnels for every packaging requirement, including convection hot air and radiant infrared systems, single and multiple-zone tunnels, and pre and post-shrink systems.

For more information, contact Gary Tantimonico at PDC International, Norwalk, CT 203-853-1516 or sales@pdc-corp.com or visit www.pdc-corp.com

More from Agricultural & Farming Products