Steam Cleaners remove chewing gum.
Press Release Summary: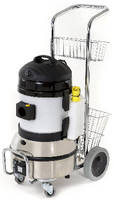 Offering pressures to 89 psi and temperatures to 320°F, KleenJet® Mega 1000CVG Steam Cleaners are engineered with wet/dry vacuum along with HEPA and water filter technology that eliminates microscopic allergy-causing substances. Machines have 3 L detergent chamber, 5 L extraction tank, and 7 L total water capacity. Comprised of metal brush, steam/vac squeegee, and gum-dissolving chemical concentrate, Gum-Exterminator technology can remove 500 pieces of gum/hr.
---
Original Press Release:

New Budget Steam Cleaners Remove Chewing Gum



KleenJet® Mega 1000CVG equipment includes high capacity Gum-Exterminator add-on and a wet/dry vacuum for demanding applications.

Press Release Source: Daimer Industries, Inc.

WOBURN, MA - November 13, 2009 - Daimer Industries® is now shipping a new line of KleenJet® steam cleaners. The Mega 1000CVG line offers engineering commonly found only in the company's more expensive machines: wet/dry vacs, Gum-Exterminator technology as well as water and HEPA filters.

"Not only do our 1000CVG steam cleaners handle standard steam tasks, like kitchen, bathrooms, and floors, the machines remove gum and filter out allergens," according to KleenJet® and Daimer.com product specialist Matthew Baratta. "The gum removal alone is worth the price of admission and now we've added all these other capabilities."

Removes Gum and Allergens

The new steam cleaners are engineered with powerful wet/dry vacuum along with HEPA and water filter technology that eliminates microscopic allergy-causing substances, such as pollens, pet hair, and dust mites.

The steam cleaning machines include Daimer®'s proprietary chewing-gum removing technology featuring a metal brush, a steam/vac squeegee and a gum-dissolving chemical concentrate. This high performance system can remove as many as 500 pieces of gum in an hour.

The Floor Steam Cleaners

KleenJet® Mega 1000CVG steam cleaning machines include a three liter detergent chamber, a five liter extraction tank, a seven liters of total water capacity between the boilers and refill chamber. As a result, the machine can clean for long periods without refill or emptying. This steam cleaning equipment offers pressure level (psi) of 89 and steam temperatures ranging to 320º Fahrenheit.

These machines also include more than 35 add-ons: upholstery nozzles, hard floor tools, extension rods and nylon and metal brushes, and more.

For more information on gum removal equipment, industrial steam cleaners and other KleenJet® steam cleaning products visit www.daimer.com/steam-cleaners/ or call Matthew Baratta at (888) 507-2220.

About Daimer Industries, Inc.®: Daimer® is a major supplier and worldwide exporter of the cleaning industry's leading line of KleenJet® steam cleaners/vapor steam cleaners/steam cleaning equipment; Super Max(TM) commercial and industrial pressure washers, including cold water, hot water, and steam pressure washing machines; XTreme Power® floor cleaners, including carpet cleaners, hard surface cleaners, and floor buffers/scrubbers/burnishers; and the line of Micro-Blasting® Eco-Green® environmentally friendly cleaning products that employ unique technologies and a patented, proprietary chemistry.

More from Controls & Controllers