Steam Cleaners are capable of removing chewing gum.
Press Release Summary: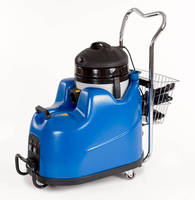 Supreme 3000CVG and Supreme 3000CVGP machines include steam vac squeegee with stainless steel brush and gum-dissolving chemical formulation to remove chewing gum. Both wet/dry vacuums provide pressure levels of up to 96 psi and steam temperatures of up to 329ºF. Units include 5 L boiler, 14 L extraction chamber and vacuum with 2,200 mm of column lift. Supreme 3000CVGP also includes HEPA filter and Advanced Thermal Ionic Sanitization® certified antibacterial technology.
---
Original Press Release:

Daimer Industries Announces New Line of Steam Cleaners with Chewing-Gum Removal



Mid-Range KleenJet® Supreme 3000 vacuum machines remove gum and produce high temperatures and pressure levels.

WOBURN, MA - July 24, 2009 - Daimer Industries, a major supplier and worldwide exporter of commercial cleaning products, introduced KleenJet® Supreme 3000 steam cleaners with gum-removal capabilities. The new Supreme 3000CVG and Supreme 3000CVGP machines include high-performance wet/dry vacuums. The CVGP adds anti-bacterial features and HEPA filtration.

"These are among our best steam cleaners offering gum-removal," said Matthew Baratta, Daimer.com spokesman. "The units fit in between our entry-priced Mega 1000 models and our highest-performing Ultra 5000 steam cleaners."

Key Features

The KleenJet® Supreme 3000 steam cleaners provide pressure levels of up to 96 psi and steam temperatures of up to 329º F. Each unit includes a 5-liter boiler, a 14-liter extraction chamber and a vacuum with 2200mm of column lift.

The Supreme 3000 steam cleaners sport a 4-liter continuous refill tank. To refill the machines, the operator adds water to this non-pressurized chamber. Due to Daimer's technology, neither the water temperature nor the pressure levels drop during refill, a problem that can affect many continuous-refill steam cleaners.

Both steam cleaners incorporate a replaceable heating element technology that allows customers to have a single low-cost heating rod replaced instead of a costly boiler.

The main difference between the two Supreme 3000 units is that the CVGP machine includes a HEPA filter and Daimer's unique Advanced Thermal Ionic Sanitization® (ATIS®) certified antibacterial technology. ATIS® eliminates disease-causing bacteria and mold, according to tests by a third-party laboratory.

Steam Cleaner Gum-Removal

Both vapor vacuum cleaners include a chewing-gum cleaning kit comprised of a steam vac squeegee with a stainless steel brush and a special gum-dissolving chemical formulation. The machines are bundled with a variety of other add-ons, such as: floor tools, upholstery nozzles, brushes, and extension rods.

For More Information

For additional information about Daimer's floor steam cleaners contact Matthew Baratta by calling (888) 507-2220.

About Daimer Industries

Daimer is a major supplier and worldwide exporter of the industry's leading line of KleenJet® steam cleaners; XTreme Power® carpet cleaners, hard surface cleaning machines, floor buffers/scrubbers/burnishers; Super Max(TM) and Vapor-Flo® pressure washers; and the line of Micro-Blasting® Eco-Green® ecologically friendly green chemicals that employ unique technologies and a patented, proprietary chemistry.

Source: Daimer Industries, Inc.

Company Name: Daimer Industries

Address 1: 16 Tower Office Park

City: Woburn

State: MA

Zip: 01801

Country: USA

Phone: 1-800-471-7157

URL: www.daimer.com

Contact Name: Matthew Baratta

E-mail: matt@daimer.com

More from Software