Stator Removal Tool facilitates pump maintenance.
Press Release Summary: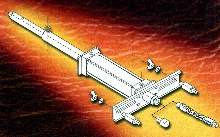 Stator Removal Device is designed to be portable within plant facility and is for use at either pump location or in maintenance shop. It enables single maintenance person to remove and replace large stators and rotors, minimizing downtime. Tool is compatible with company's medium to large pumps and pump stators.
---
Original Press Release:
New Moyno® Stator Removal Device Greatly Facilitates Pump Maintenance
Springfield, Ohio, USA, October 11, 2002 - Moyno, Inc., a unit of Robbins & Myers, Inc., recently introduced the Moyno® Stator Removal Device, a versatile and handy maintenance tool that facilitates removal and reassembly of large Moyno stators and rotors. Designed to be portable within a plant facility and for use at either the pump location or in the maintenance shop, the Moyno Stator Removal Device is compatible with all medium to large Moyno® 2000 Pump and Moyno® 1000 Pump stators. The Moyno Stator Removal Device makes caring for Moyno's highly reliable, easy to maintain pumps even easier. In today's fast-paced environment, minimizing downtime is essential. The Stator Removal Device dramatically accelerates the pump maintenance process, returning the pump to service as quickly as possible. Additionally, the Moyno Stator Removal Device enables a single maintenance person to easily remove and replace large stators, reducing maintenance time and effort. Utilizing one maintenance worker instead of two to accomplish the same task equates to reduced costs as well as improved productivity. Moyno, Inc. is a leading manufacturer and marketer of Moyno progressing cavity pumps, multiphase fluid transfer systems, grinders and controls. It has an extensive worldwide stocking distribution network that serves a wide range of industries including water and wastewater treatment, pulp and paper, chemical, food, pharmaceutical, mining, petrochemical, and oil and gas recovery. Moyno. Inc. is a unit of Robbins & Myers, Inc.
Related