Stationary RFID Reader survives harsh environments.
Press Release Summary: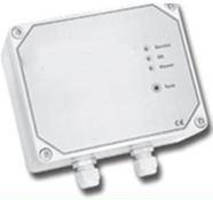 Able to read all FDX-B and HDX RFID tags, 134.2 kHz GAO212001 is tailored for continuous operation in feeding stations, animal scales, or sorting gates. ISO 118784/5-compliant solution includes auto-tuning and diagnosis modules that optimize read range and stability, even under changing environments, and enable on-site diagnosis for noise problems. Clock synchronization enables use in applications where several readers or antennae are used in close proximity.
---
Original Press Release:

134.2kHz Stationary RFID Reader Packed with Rich Features



Toronto, Canada - GAO RFID Inc. (www.GAORFID.com) has rolled out its low frequency stationary RFID reader (GAO212001). The reader is designed with several advanced functions and is specially tailored for continuous operation in harsh environments found in feeding stations, animal scales or sorting gates.

This fixed RFID reader is ISO 118784/5 compliant and thus able to read all FDX-B and HDX RFID tags. The reader is packed with patented auto-tuning and diagnosis modules which ensure simple first installation, best read range and high stability even under changing environments and enable on-site diagnosis for noise problems.

The 212001 fixed RFID reader has a durable case with an IP54 protection rating, and its integrated LEDs and function key provide for ease of operation. The reader also supplies a clock synchronization enabling applications where several readers or antennae are used in close proximity.

For more information about this fixed RFID reader, please visit www.GAORFID.com or contact Sales@GAORFID.com.

About GAO RFID Inc.
GAO RFID Inc. is a leading provider of Radio Frequency Identification (RFID) hardware and solutions to end users worldwide. GAO RFID combines best of breed with low cost RFID readers, RFID tags and enabling-RFID software. GAO offers a wide variety of RFID readers, tags and antennas in all the RFID technologies, Low Frequency (LF), High Frequency (HF), Ultra High Frequency (UHF, Gen 2) as well as Active and Semi-Passive. GAO RFID's products and services are easily customized for use in asset tracking, healthcare, supply chain & logistics, event management, access control, livestock tracking, inventory control & management, field service maintenance and document authentication.

For more information please visit www.GAORFID.com