Static Neutralizing System is current-limited.
Press Release Summary: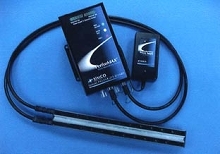 PerforMAX automatically senses static neutralizing power needed to remove charges from surface, and adjusts ion output of static bar. System eliminates static charges when installed up to 10 in. from web surface (up to 20 in. on winders), and consists of control module and static bar. Range switch can be set where static bar is located less than or greater than 3 in. away from material. System neutralizes charged materials traveling up to 2500 ft/min.
---
Original Press Release:
From SIMCO Industrial Static Control INTRODUCING the NEW PerforMAX System, The Most Effective Static Neutralizing System Available

Why does the PerforMAX innovate the removal of static charges?

The PerforMAX is the first and only system that automatically senses the static neutralizing power needed to remove a charge from a surface and adjusts the ion output of the static bar to achieve the most effective static neutralizing performance of any system.

Hatfield, PA --- Simco Industrial Static Control introduces the NEW PerforMAX Static Neutralizing System (patent pending). The PerforMAX is an extended range, high-speed system designed to eliminate static charges even when installed up to 10" from the web surface, and up to 20" on winders.

The system consists of a control module and static bar. The control module monitors output at the static bar, indicates when the static bar needs cleaning and other conditions that may prevent peak performance. The PerforMAX is also equipped with a range switch that optimizes the system's flexibility and performance. The range switch can be set for applications where the static bar is located less than 3" or greater than 3" away from the target material.

The PerforMAX static bar is current-limited, which prevents hazardous electrical shock if the emitter pins are touched while the bar is in operation. The static bar is fitted with a detachable, high voltage, shielded cable enclosed in a flexible impact-resistant nylon conduit as an additional mechanical protection.

Features and Benefits

* Automatically adjusts ion output required to neutralize static charges
* Bar graph display indicates system is neutralizing the charged web and the level of positive and negative ion output
* Neutralizes charged materials traveling up to 2500 feet per minute, and sometimes faster depending on conditions
* Indicator lights display status of neutralizing system including when the static bar needs cleaning
* Resistor-coupled, shockless design operation which creates tremendous ionization output
* Rugged bar construction ideal for industrial installations
* Range switch for optimizing neutralization at distances of <3" or >3"
* Relay contacts allow remote monitoring of neutralizing system
* Flexible, high voltage, cable enclosed in impact-resistant nylon conduit with internal shielding to prevent EMI/RFI emissions
* Continuous "T" slot at back of bar for easy and flexible mounting
* High voltage shielded cable connection detachable at bar and control module
* Indicator lights located on the control module eliminate the need for a separate monitor box. An optional remote module is available if desired.