Static Grounding Relay helps control ignition risk.
Press Release Summary: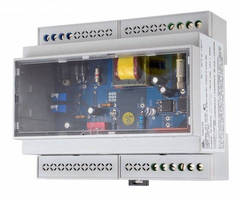 Featuring HAZLOC-approved, Intrinsically Safe-certified circuit, Earth-Rite® OMEGA II monitors resistance of circuits designed to ground equipment subject to electrostatic charging. Adjustable resistance monitoring settings of 2, 4, 10, and 600 Ω accommodate requirements of diverse applications. While 2-pole FM-approved static grounding clamps and Cen-Stat™ grounding cable connect relay to hazardous area equipment, internal 2 dry changeover contacts allow interlocking with process equipment.
---
Original Press Release:

Earth-Rite® OMEGA II



Newson Gale has launched its next generation static grounding relay, the Earth-Rite® OMEGA II. Featuring a HAZLOC approved Intrinsically Safe certified circuit for use in the highest gas, vapor and dust groups the Earth-Rite® OMEGA II monitors the resistance of circuits designed to ground equipment that are subjected to electrostatic charging.



The new DIN rail mountable relay caters for installations where dedicated grounding systems like the Earth-Rite® RTR or Earth-Rite® PLUS would not normally form part of an electrical contractor's turnkey control panel project for a HAZLOC installation.



The Earth-Rite® OMEGA II features four adjustable resistance monitoring settings that can cater for the specific requirements of a wide range of static grounding applications. The resistance monitoring settings available for selection are 2 ohms, 4 ohms, 10 ohms and 600 ohms. By ensuring the grounding circuit has a low resistance path to a verified earth ground, the risk of an ignition caused by an electrostatic discharge is controlled to safe levels.



Newson Gale's range of 2 pole Factory Mutual approved static grounding clamps and Cen-Stat™ grounding cable connect the Earth-Rite® OMEGA II to hazardous area equipment and with its internal two dry changeover contacts can be interlocked with process equipment to stop the generation of static electricity if the equipment is not grounded. It can also be interlocked with an indicator station to provide operators with a visual reference point to indicate when the equipment is safely grounded prior to, and during, the operation.



The Earth-Rite® OMEGA II relay has a certified operating temperature range of -40° F to +140° F (-40° C to +60° C) and carries SIL 2 certification in accordance with the requirements of IEC 61508. It requires a 24 V DC power supply with up to four relays powered simultaneously by a single power supply. The relays are normally mounted in a non-hazardous location but can be fitted inside a suitably certified XP explosion proof enclosure mounted in the hazardous location.



Obtain more information on the Earth-Rite® section of our website www.newson-gale.com

Newson Gale Inc.

460 Faraday Avenue

Bldg C

Jackson, NJ, 08527, USA

Tel: +1 732 961 7610

Email:

[email protected]