Star SU Announces Line of Horizontal Hobbing and Gear Shaping Machines from Samputensili CLC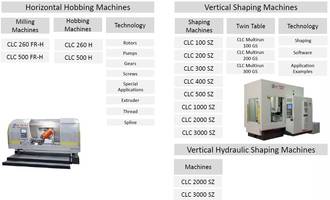 Hoffman Estates, IL., May 2, 2019 —  Star SU LLC is pleased to announce it has expanded its comprehensive gear manufacturing product offering to include a line of horizontal hobbing and gear shaping machines available in the North American market.
Star SU technology partner, Samputensili, has recently signed an agreement between its Machine Tools Group and CLC, a reputable Italian producer of hobbing and shaping machines.  The newly created company, Samputensili CLC S.r.l. can now offer new machines from its manufacturing plant located near Bologna, Italy.
The agreement helps complete Star SU's line of gear hobbing machines for shafts and long workpieces, as well as the addition of gear shaping, strengthening its position as a globally recognized leader of gear manufacturing solutions.
About Star SU, LLC
Star SU is the go-to-market cooperative partnership of Star Cutter Company of Farmington Hills, MI, and SU America, Inc., the US sales and manufacturing unit to SAMP, S.p.A. The companies together represent one of the world's largest gear machine, tool and gear tool manufacturing producers.
Star SU, LLC offers a wide variety of machine tools, precision cutting tools and services including:
gear hobbing machines
chamfering and deburring machines
gear grinding machines
gear shaving machines
gear shaping machines
tool and cutter grinding machines
gear hobs and milling cutters
chamfer hobs
gear shaper cutters and shaving tools
scudding® and power skiving tools
chamfer and deburring tools
gundrills
rifle buttons and push/pull reamers
form tools and reamers
pcd tooling
cryogenic cutting tools
carbide blanks and preforms
tool coatings
and tool life cycle management services
Contact:
Mark C. Parillo
Director of Marketing
Star SU, LLC
Phone: 847-649-1450
FAX: 847-649-0112
E-mail: mparillo@star-su.com
More from Materials