Staplers handle various construction applications.
Press Release Summary: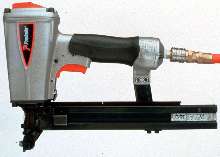 Equipped with top-loading magazine, S200-S16 Framing Stapler drives 16-gauge, standard-crown staples from ¾-2 in. in length. Model S150-W16R Construction Stapler, adjustable shingle guide, drives 16-gauge, wide-crown staples from 5/8-1 ½ in. in length, while S200-W16 Insulation Sheathing Stapler drives 16-gauge, wide-crown, galvanized staples from ¾-2 in. in length. Each tool provides adjustable depth of drive, 150 staple capacity, and 2-fingered trigger.
---
Original Press Release:

Enhanced Line of Construction Staplers for Unmatched Power, Performance


Paslode now offers an enhanced line of construction staplers that includes three tools: the S200-S16 Framing Stapler, the S150-W16R Construction Stapler and the S200-W16 Insulation Sheathing Stapler. These tools allow contractors to complete all stapling projects quickly and easily.

The S200-S16 Framing Stapler features increased durability for everyday use and long tool life. It drives 16-gauge, standard crown staples ranging from 3/4 inches to 2 inches in length. A top loading magazine system holds two strips and allows for fast, easy reloading of staples. This tool is ideal for applications that include floor decking, roof sheathing, soft wall sheathing, vinyl siding, plywood sheathing and sheet insulation.

The S150-W16R Construction Stapler drives 16-gauge, wide crown staples ranging from 5/8 inches to 1-½ inches in length. This tool was developed for applications such as roofing shingles, wire lathing, insulation sheathing, polystyrene sheathing, housewrap and insulation. An adjustable shingle guide keeps roofing shingles straight and properly aligned.

The S200-W16 Insulation Sheathing Stapler drives 16-gauge, wide crown galvanized staples. The tool uses a staple varying in length from ¾ inches to 2 inches, allowing for tremendous versatility. It is designed for projects including insulation sheathing, wire lathing, polystyrene sheathing and housewrap.

Each tool weighs just 4.9 pounds and features an ergonomic design that reduces user fatigue and provides more control. Another user benefit available on all three tools is an adjustable depth of drive to control the fastener depth in hard or soft woods.

Other features of these tools include a fastener capacity of 150 staples; a Suregrip handle for greater comfort in all types of weather: a quick clear nose that provides easy access to clear jams; a two-fingered trigger that makes the tool comfortable to use even when wearing gloves; and, an adjustable diffuser cap to direct air away from the user.

Paslode, a division of Illinois Tool works, is a leading manufacturer of cordless and pneumatic nailers, staplers and trim tools, and nails and staples. The company's products are widely used on the construction job site for framing and sheathing, trim and finish applications, fencing, floor and roof decking, siding and installation, as well as by DIYers and home remodelers.

For further information on Paslode tools and fasteners, contact the company at 800/682-3428 ext. PR, or visit the award-winning, recently enhanced Paslode Web site at (www.paslode.com).

More from Computer Hardware & Peripherals