Stanley Vidmar Designs Unique Storage Systems for Carbon Career & Technical Institute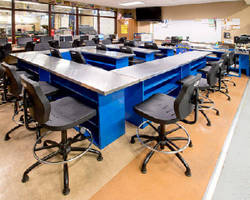 Enhancements save space and improve organization, mirror real-world shop environment



Allentown, PA -- What do you do when your small, nontraditional learning space lacks the right tools for storage, organization, and efficient workflow? That was the problem facing Carbon Career Technical Institute (CCTI) in Jim Thorpe, PA.



While CCTI's tech programs were strong and steadily growing, their space was limited. Inefficient storage racks, desks, and countertops couldn't hold up to the daily onslaught of heavy parts, metal tools, and classrooms full of teenagers.



CCTI partnered with their Stanley Vidmar Territory Sales Manager to design unique systems that include countertops, workstations, and drawer cabinets. The results enhanced classroom learning opportunities; reduced costs from not having to replace lost tools; created easily inventoried; centralized locations for tools and parts; and increased shop/student productivity.



Since the work was completed, the response from CCTI has been positive. "Vidmar's improvements have given the students a sense of pride in their classrooms and workshops, and it's made them more productive," says Hal Resh, automotive instructor. "We spend more time working and learning because we're more organized than ever before. And we've already noticed savings by not having to replace tools as often."



Click here to download the full CCTI case study and additional imagery.



Stanley Vidmar offers both new and potential customers a free onsite analysis to ensure that all storage needs are being addressed. Interested businesses should visit StanleyVidmar.com/contact or call 800-523-9462.



About Stanley Vidmar

A division of Stanley Black Decker, Stanley Vidmar offers storage solutions to all industries, with modular space-saving systems that provide quick, safe access to parts, tools, and supplies. A Stanley Vidmar system can maximize valuable floor space while providing an integrated solution for inventory control. Customers can arrange for a free analysis of their storage needs by calling 800-523-9462. Detailed information on Stanley Vidmar products is available at StanleyVidmar.com.

More from Agricultural & Farming Products