Standard Recovery Rectifiers carry current ratings from 6-25 A.
Press Release Summary: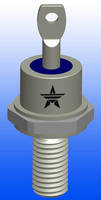 Offered in stud cathode and stud anode versions, high-power standard recovery rectifiers in DO4 package feature vacuum welding technology and are hermetically sealed for use in harsh environments and applications where humidity is present. Peak repetitive reverse voltages range from 100–1,200 V at 125°C case temperature, and non-repetitive peak surge current range is 167–373 A. Design promotes consistent and stable electrical performance while eliminating thermal fatigue.
---
Original Press Release:

America Semiconductor's New Series of High-Power Standard Recovery Rectifiers



DO4 Stud Devices Optimized to Provide Reliable and Efficient Power Solutions to a Variety of High-Reliability  Industrial Applications



Linden, NJ – America Semiconductor, LLC, a leading manufacturer of state-of-the-industry high-power semiconductors, announced the availability of a new full series of high-power standard recovery rectifiers in a DO4 package.  Offered in stud cathode and stud anode versions, the parts may be ordered with current ratings of from 6A through 25A and notably feature vacuum welding technology, low power waste and low thermal resistance.   The high-reliability components are hermetically sealed to ensure robust and dependable performance in harsh environments and in applications where humidity is present. The rectifiers are offered with peak repetitive reverse voltages ranging from 100V to 1200V at 125 °C case temperature.



Manufactured to ensure consistent and stable electrical performance while eliminating thermal fatigue, America Semiconductor's DO4 stud devices are employed in a wide array of industrial applications to convert raw alternating current (AC) mains' electricity into direct current (DC) power.  They are ideally suited for use in applications in which superior power cycling performance and the ability to maintain stable forward voltage characteristics throughout components' lifetime is required. They are commonly specified for use in battery chargers, converters, power supplies, machine tool controls and in welding equipment.



America Semiconductor's new high-power standard recovery rectifiers are supplied with US and European threads  and may be ordered in 6A, 12A, 16A and 25A versions with maximum average forward currents ranging from 160 °C to 120 °C.  Additional specifications include a high I2t, an operating junction temperature range of -65 °C to 175 °C and an operating storage junction temperature range of -65 °C to 200 °C. The series' non-repetitive peak surge current range is from 167A to 373A.



Customers may contact America Semiconductor at www.americasemi.com for a list of authorized distributors.



About America Semiconductor:

Headquartered in Linden, NJ, America Semiconductor is a global leader in the manufacturing of mission-critical, high-power semiconductors, low-power semiconductors and discrete semiconductor components to help OEM companies solve their design challenges.  With over 50 years of accumulated expertise in the semiconductor industry, America Semiconductor's rugged high-reliability high-power standard, fast and super-fast recovery rectifiers, low-power and bridge rectifiers, diacs, IGBT modules, SCRs, Triacs,  Shottky and Zener diodes are employed in an array of industries including alternative energy, oil drilling, power grid, welding, HVAC, and transportation.  The company operates a meticulous quality control program and extensive supply chain.  America Semiconductor's parts are available exclusively through a global network of distributors.





America Semiconductor, LLC

Goethals Park

2525 Brunswick Ave

Suite 209

Linden, NJ 07036

(W)908.810.SEMI (7364)

info@americasemi.com

www.americasemi.com



Contact: 

David Geltman

Vice President of Sales and Marketing

dgeltman@americasemi.com





More from Materials