Standalone DC Electronic Loads handle diverse applications.
Press Release Summary: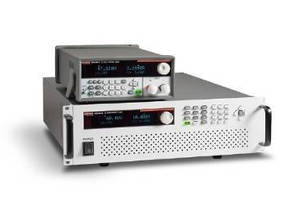 Supporting range of DC power test applications, Keithley Series 2380 includes 200, 250, and 750 W models. All offer multiple operational modes – CC, CV, CR, and CP – and diverse auto test modes with up to 25 kHz dynamic load cycling mode. Along with multiple interface choices, features include built-in CR-LED test, I-Monitor and battery test functions, as well as integrated facilities for measuring voltage rise/fall time of DC power sources and creation of range of load current changes.
---
Original Press Release:

Tektronix Debuts Family of Compact, Standalone DC Electronic Loads



New Keithley Series 2380 Supports a Wide Range of DC Power Test Applications Including Power Electronics, LED Lighting, Battery Research, Automotive, Alternative Energy and More



BEAVERTON, Ore. -- Tektronix, Inc., a leading worldwide provider of test, measurement and monitoring instrumentation, today introduced the Keithley Series 2380 family of compact, standalone DC Electronic Loads as a compliment to the company's complete set of power test and measurement solutions. Available in 200W, 250W and 750W models, the new DC Electronic Loads offer excellent performance, competitive pricing and the versatility to handle a wide range of applications including performance verification, stress test and environmental test of DC power sources, power components and batteries in power electronics, LED lighting, battery research, automotive and alternative energy.



Electronics engineers or test engineers developing or testing DC power supplies or batteries use DC Electronic Loads to quickly and easily simulate real-world loads in order to validate the performance of their devices under a range of conditions. The new Series 2380 DC Electronic Loads feature multiple operation modes and diverse auto test modes with up to 25 kHz dynamic load cycling mode, superior voltage/current resolution and read back accuracy and multiple interface choices



"In developing this family of DC Electronic Loads, it became clear that engineers are looking for precision and performance at an affordable price point," said Michael Ewald, general manager, Tektronix. "The Series 2380 represents the industry's best value in a DC Electronic Load, and along with our power analyzers, power supplies, SMUs, DMMs and oscilloscopes rounds out our comprehensive and cost-effective bench test solution for all types of power conversion device testing."



Using any of the Series 2380 models engineers can test their device under multiple working modes using the same instrument. The operation modes include constant current (CC), constant voltage (CV), constant resistance (CR), and constant power (CP). The new instruments build confidence in measurement accuracy with 0.1 mV/0.01mA voltage/current read back resolution and 0.025%/0.05% voltage/current read back accuracy.



Other features include:

--  A built-in CR-LED test that can simulate real LED lamps or LED strings

--  Integrated facilities for easily measuring the voltage rise/fall time of DC power sources

--  An I-Monitor function that simplifies testing/monitoring of current drawn  from  the DUT

--  List mode making it easier to  create a wide range of load current changes

--  Battery test function that simplifies battery life and capacity testing



Pricing & Availability

The Series 2380 DC Electronic Loads are available now worldwide. Prices start at $1,880 US MSRP. For more information go to www.tek.com/dc-electronic-load.



Wondering what else Tektronix is up to? Check out the Tektronix Bandwidth Banter blog and stay up to date on the latest news from Tektronix on Twitter and Facebook.



About Tektronix

Headquartered in Beaverton, Oregon, Tektronix delivers innovative, precise and easy-to-operate test, measurement and monitoring solutions that solve problems, unlock insights and drive discovery. Tektronix has been at the forefront of the digital age for over 65 years. Join us on the journey of innovation at www.tektronix.com. In 2010, Keithley Instruments joined Tektronix as part of its test and measurement portfolio.



Tektronix is a registered trademark of Tektronix, Inc. All other trade names referenced are the service marks, trademarks or registered trademarks of their respective companies.



CONTACT: Amy Higgins, PR Manager, Tektronix, ahiggins@tektronix.com, 503.627.6497

Related