Stainless Steel Electrodes meet military approval.
Press Release Summary: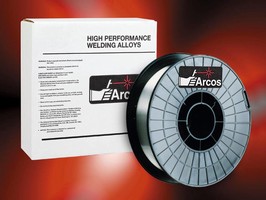 Arcos 347 stainless steel electrodes are manufactured for high temperature welding applications. Bare version of ER347 welds chromium-nickel base metals of similar composition stabilized with columbium or titanium, and can be used for welding base metals 302, 320, and 347. Developed for 302, 304, 321, and 347 welding grades, covered version of E347 is utilized where conditions require maximum resistance to corrosion and where weld metal is subject to temperatures above 700°F.
---
Original Press Release:

Arcos Introduces Stainless Steel Electrodes for High Temperatures



Date: August 28, 2008

Mount Carmel, PA - Arcos Industries, LLC now offers new bare and covered stainless steel electrodes, Arcos 347, which are manufactured for high temperature welding applications.

The bare version of Arcos 347 (ER347) is designed to weld chromium-nickel base metals of similar composition stabilized with columbium or titanium. The added columbium in this wire greatly reduces the possibility of intergranular chromium carbide precipitation. Arcos 347 is used for welding base metals 302, 320 and 347. It is also ideal for welding in conditions which require maximum resistance to corrosion or when the metal is subjected to high temperatures.

The covered Arcos 347 electrode (E347) is utilized where conditions require maximum resistance to corrosion and is recommended where weld metal is subject to temperatures above 700 degrees F. This wire was specially developed for welding grades of similar chemical composition such as 302, 304, 321 and 347 and is well suited for nuclear power plant applications.

Both Arcos 347 electrodes also meet military approval.

For more information on bare and covered Arcos 347 electrodes, contact Arcos at (800) 233-8460 or visit the website at www.arcos.us.

From: Arcos Industries, LLC
One Arcos Drive
Mount Carmel, PA 17851
Phone: (800) 233-8460
Fax: (570) 339-5206
www.arcos.us
Contact: chenninger@arcos.us

More from Material Handling & Storage