Stainless Steel Chains target food industry.
Press Release Summary: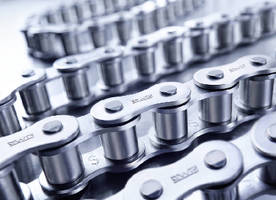 With corrosion-free design, CF Stainless Steel Chains are suited for environments with water or steam, stringent cleaning regimes, or extreme temperatures. All rollers are seamless and therefore impact-resistant at high speeds, ensuring smooth, even chain operation. Seamless bushes minimize initial stretch and allow customized length tolerances, resulting in optimized positioning accuracy, especially in dynamic cyclic operation. Operating from -80 to +150°C, chains meet ISO 606 requirements.
---
Original Press Release:

New in Iwis' Product Range: Highly Corrosion-resistant Stainless Steel Chains



Indianapolis, -- New in the product range of chain manufacturer iwis drives systems are corrosion-free CF stainless steel chains. They are exceptionally reliable and durable, and  are ideal for use in the food industry and other applications requiring a high level of corrosion resistance. They are made to a high quality, offer excellent performance and value for money and generally the range is available from stock.



In standardised salt spray tests at iwis the new CF (Corrosion Free) stainless steel chains demonstrated outstanding corrosion resistance and excellent fatigue strength. With these characteristics, iwis corrosion-free chains offer outstanding results in corrosive environments, with water or steam, stringent cleaning regimes or extreme temperatures. They are typically used in the food industry, in filling and conveying applications and in packaging machinery.



The plates of the CF stainless steel chains have better precision blanking than conventional corrosion-free roller chains, increasing service life and reducing elongation through higher press-out forces. All rollers are seamless and therefore exceptionally impact-resistant at higher speeds, which ensures smooth, even chain operation. Seamless bushes  reduce initial stretch and allow customised length tolerances, resulting in greater positioning accuracy and speed, especially in dynamic cyclic operation. This is a major advantage in filling, conveying and packaging applications. On request, iwis can provide graphs of load–elongation data for all chains.



iwis CF stainless steel chains meet the requirements of ISO 606 (DIN 8187). They can be used in a temperature ranges from -80 to +150 °C. Various special-purpose lubricants are available to allow the chains' use at high temperatures of up to 400 °C as well as low temperatures. In addition, various H1-approved lubricants for use in food processing and specially developed wax lubricant approved for food use is available. Conveyor chains with attachments can be produced at short notice.



In addition to the new CF stainless steel chains, iwis provides a full product range for all drive and conveying applications, which also includes precision and high-performance roller chains, conveyor chains, maintenance-free and corrosion-resistant chains, power and free conveyor chains, special-purpose conveyor chains, flyer chains, flat-top chains, modular belts, chains and accessories for agricultural machinery, and timing drives for the automotive industry.



Company information:

With headquarters in Munich, Germany, the iwis Group is a leading supplier of precision chain systems for power transmission and conveying applications. The iwis Group comprises three divisions:

-- iwis motorsysteme GmbH & Co KG, providing engine timing systems for the automotive industry.

-- iwis antriebssysteme GmbH & Co KG, supplying a wide range of precision roller and conveyor chains for industrial applications, including machine and plant engineering, material handling systems, and the packaging, printing and food industries. 

-- iwis antriebssysteme GmbH, formerly known as Flexon GmbH, specialising in roller, conveyor, special-purpose and flat top chains, modular belts, chains for agricultural machinery, sprockets and accessories.



Established in 1916, iwis is a family-run business which today employs more than 1000 people. In addition to production sites in Germany (Munich, Landsberg, Wilnsdorf and Sontra) and in the Czech Republic, in China and in the USA, iwis has subsidiaries in various countries in Europe and overseas, including Canada, England, France, Hong Kong, India, Italy, Korea, South Africa and Switzerland. Altogether, the iwis Group has 45 business locations throughout the world.



Contact in the USA:

iwis drive systems, LLC

Building 100

8266 Zionsville Road

Indianapolis, IN 46268, USA

Tel.: +1 317 821 3539

Fax: + 317 821 3569

E-mail: sales@iwisusa.com

Internet: www.iwisusa.com



Contact in Canada:

iwis drive systems, Inc.

Unit 101  19097 26th Avenue

Surrey, BC, Canada V3S 3V7

Tel.: +1 604 560 6395

Fax: +1 604 560 6397

E-mail: salesca@iwisusa.com

Internet: www.iwisusa.com



Contact in Germany:

iwis antriebssysteme GmbH & Co KG

Albert-Roßhaupter-Str. 53

81369 Munich, Germany

Phone: +49 89 76909 1500

Fax: +49 89 76909 1198

E-mail: sales@iwis.com

Internet: www.iwis.com

More from Mechanical Components and Assemblies