Stainless Roofing Tiles are permanently colored.
Press Release Summary: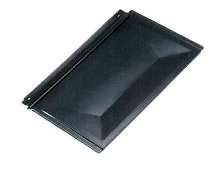 Made from 75% recycled type 304 stainless steel, permanently colored roofing tiles feature Zappone 4-sided interlocking design that delivers protection against moisture and wind lift. Shadow cup adds dimension, enhances noise absorption, and allows tiles to be walked on during installation. Weighing 89 lbs per 100 ft², tiles are engineered for endurance in all climates and conditions. Tiles can be applied over existing asphalt roofing.
---
Original Press Release:
World's First Permanently Colored Stainless Roofing System Debuts

Revolutionary Product Delivers Style and Substance in a More Versatile Design

(Barrington, IL - May, 2003) - Millennium Tiles LLC (www.millenniumtiles.com), based in Barrington, Illinois, has introduced the world's first permanently-colored stainless steel roofing tile system, combining the unsurpassed durability of stainless steel with the design versatility of a richly hued, shingle-style tile. This brand new concept in roofing has recently debuted on a range of architectural styles, from classic turrets to contemporary A-frames and will be on display at the 2003 AIA Convention in San Diego. CA.

"Great design should not have to stop at the roof line," insists Walter Hauk, founder and CEO of Millennium Tiles. "Metal roofing is certainly not a new idea. Stainless steel is a more robust and modem version of the copper roofs that have protected the great cathedrals and parliaments of Europe for centuries. Contemporary U.S. monuments featuring stainless in their design, including New York's Chrysler Building (1928) and the St. Louis Arch (1964) testify to its durability."

"However" Hauk continued, "until now, metal roofing, and stainless steel roofing in particular, hasn't been versatile enough to transcend design on a smaller scale. Millennium Tiles has provided architects and homeowners with a product that opens up entirely new design options. Our tiles transform stainless into a rich, warm palette of colors and a style that is at home on both modem and traditional structures. Instead of being strictly an alternative within the metal roofing category, we believe that many architects and owners will choose our tiles for their beauty over other materials and then enjoy all the superior benefits stainless steel roofing delivers."

Millennium Tiles has developed an exclusive coloring process to produce prismatic, permanent colors, for their tiles. Unlike other products that use surface-applied coatings or incorporate paint pigments, Millennium Tiles draw their color from within the stainless steel itself, enhancing the protective chrome oxide layer on the surface of the tile to create rich, vibrant hues that change under different lighting conditions and viewing angles. This process not only produces color that will never fade, peel or chip, but also enhances the corrosion-resistance of the stainless steel. "This unique process really brings our tiles alive," remarked Kay Morgan, General Manager. "The result is distinctive color that changes with light, but not with time. The color you choose is the color you keep for the lifetime of your roof." Millennium Tiles currently offers its system in three colors: Amber Bronze, Slate and Pewter. Custom coloring services are also available- The company will be premiering two new products during the AIA Convention - an elegant gold tile and a permanent copper tile that will never patina.

Millennium Tiles are made in the USA through an exclusive alliance with Zappone Systems, a leader in copper roofing for more than 30 years. The tiles feature the Zappone four-sided interlocking design, proven to deliver the industry's best protection against moisture and wind lift. Each tile has a "shadow cup' that adds dimension, enhances noise absorption and allows the tiles to be walked on during installation. The system is Class A fire rated and features a limited, transferable warranty.

Millennium Tiles weigh much less than other roofing materials, carrying a mere 89 lbs per hundred square feet versus up to 1,000 lbs for the same coverage in clay or slate. Despite their decreased bulk, Millennium Tiles are engineered for greater endurance in all climates and conditions. "The lightweight, flexible design scale of our tiles opens up many more design options in roofing," noted Morgan. "Without the limitations of additional substructure that other premium roofing materials may require, architects and designers choosing Millennium Tiles can let their imaginations and creativity soar."

Even more impressive may be the role Millennium Tiles can play in green building, "According to GreenClips, almost 30 billion pounds of asphalt roofing shingles are dumped into US landfills every year," Morgan explained. "Our tiles are made from 75% recycled type 304 stainless, if they are ever removed, they are 100% recyclable. In certain cases they can also be applied over existing asphalt roofing, eliminating the need to send more asphalt waste to a landfill. Not only are Millennium Tiles a great value, but they're a smart choice, too. It's the last roof you'll ever want, or need." The product is currently being evaluated for other environmental applications such as solar and potable water collection.

Millennium Tiles have received enthusiastic response since their debut. "Our tiles have captured the attention of a wide range of architects and builders of custom homes, municipal buildings, universities and houses of worship, to name a few," said Hauk. " And they're being specified not only for roofs, but for siding and architectural accents, too. We've provided a versatile new product to the experts. Now the experts are proving just how limitless Millennium Tiles design applications can be."
More from Electronic Components & Devices