ST700 LED UV Lamp features UV-A filters.
Press Release Summary: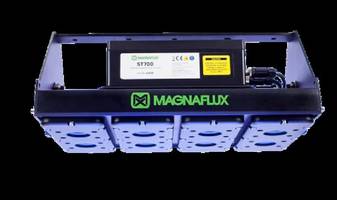 ST700 LED UV Lamp comes with inspection area of 22 x 25 in / 55 x 64 cm with UV-A over 1,000 μW/cm². Unit offers 7,000 μW/cm² of high intensity UV-A light at 15 in / 38 cm. Product can be mounted up to 36 in / 90 cm from the inspection surface and is equipped with fan-less cooling system and non-clouding LED lens. ST700's LED array is designed to provide uniform bright illumination and meets the ASTM E3022 standards. Lamp is suitable for fluorescent non-destructive testing.
---
Original Press Release:
New Inspection-Grade Stationary Flood LED UV Lamp for NDT Professionals
ST700 UV lamp for nondestructive testing solves the biggest challenges in fluorescent UV illumination
After consulting with numerous NDT experts and inspectors, Magnaflux is expanding their line of LED UV lamps for non-destructive testing with the ST700 overhead inspection LED UV light, which is specifically designed to eliminate or prevent some of the most common challenges around UV illumination in fluorescent NDT testing.
"Customers using fluorescent or mercury-vapor solutions today find that they do not have the coverage or intensity that they need to properly and efficiently inspect their parts. They also have to deal with frequent bulb failures, hazardous waste disposal costs, and the swift disappearance of mercury vapor bulb replacements in the market. On the other hand, current LED solutions are often too fragile to stand up to harsh industrial environments, while still not providing the coverage that they require," explains Sakif Ferdous, Magnaflux Market Research Manager.
Designed and tested by NDT professionals, the ST700 speeds up fluorescent NDT processes while also improving inspection quality with an ultra-wide, 12 x 24 in / 30 x 61 cm UV-A beam when mounted 39 in / 1 m from the inspection surface. The ST700's best-in-industry UV-A inspection area allows inspectors to quickly examine parts while minimizing part handling, especially with larger test parts, and the high intensity UV illumination helps indications stand out bright and clear for faster detection.
"The Magnaflux ST700 LED blacklight provides brighter UV light, runs cooler, uses less energy, and eliminates the disposing of hazardous mercury bulbs. It is very reliable and well suited to use in a fixed location. We use our ST700 24 hours a day with 100% confidence," says Joseph A. Michel, NDT Level 3 and Met/Chem Lab Business Manager at UTC Aerospace Systems.
Speeds Up the Inspection Process
The ST700 offers the best beam-area value of any stationary flood LED UV lamp on the market with a maximum inspection area of 22 x 25 in / 55 x 64 cm with UV-A over 1,000 μW/cm². This ultra-wide beam meets ASTM and RRES requirements for UV-A illumination so inspectors can be confident to see every indication with less part handling. "The extra-wide beam shows more area at once, and smooth, even coverage means you don't have to keep repositioning the part," continued Geis. "All of which lets you get the job done faster." During field evaluations, our beta-testers found the ST700 beam is wide enough to cover large cast parts without additional part handling.
Minimize Risk of Missing Indications
Providing 7,000 μW/cm² of high intensity UV-A light at 15 in / 38 cm, the ST700 makes fluorescent penetrant and magnetic particles stand out bright and clear for high-contrast visibility and easy detection. The high intensity LEDs allow the ST700 to be mounted up to 36 in / 90 cm from the inspection surface and still maintain UV-A over 1,000 μW/cm².
"We consistently get around 4,000 μW/cm² at a distance of 24 inches, which is at our part surface," said one ST700 beta tester. Another beta tester stated, "The (ST700) light emits the proper frequency, same as the old mercury vapor bulbs, which makes the indications fluoresce better."
Maximize Range of Inspections
The ST700's LED array is designed to cast uniformly bright illumination, and the stable intensity of the LEDs meets the ASTM E3022 and Rolls-Royce RRES 90061 standards. The custom UV-A filters reduce glare and increase fluorescent contrast to make indications easier to see.
"Glare from the lamp reduces contrast on the surface you're inspecting, and that slows down the inspection process," added Geis. "The ST700 includes filters to eliminate violet glare and each unit is certified to all the latest aerospace specs."
Real-World Reliability
Engineered specifically for the rigors of NDT and manufacturing environments in order to reduce on-the-job downtime, this stationary floor UV light is fully sealed to prevent dust or water damage. The dependable, impact-resistant construction, along with the fan-less cooling system and proprietary, non-clouding LED lens provide reliable, consistent inspections.
"Magnaflux designs equipment with the real world in mind, and that reliability is what you need for consistent results in critical inspections," explains Geis. ST700 beta testers liked the simplicity of the light, noting there are no fans or filters to clog up, and no loose control remote to misplace.
Work in Comfort
With LED technology, the ST700 runs much cooler than traditional mercury-vapor lamps to help keep operators and inspection booths cool. "Fluorescent inspection is highly technical, requires concentration and intense focus," points out Geis.
"Our operators appreciate the light not dumping additional heat into the booth, and our safety engineers love it because it has no mercury, uses less energy, and has a bright white-light mode," said a beta-tester.
Learn more about the new ST700, including additional benefits and technical specifications: http://magnaflux.com/ST700?utm_source=pr-list&utm_medium=3rd-party&utm_campaign=ST700-launch&utm_content=st700-webpage
Ready to place an order? Contact Magnaflux customer service at +1 847-657-5300 or magnaflux.com/Contact-Us to place an order or find a distributor.
About Magnaflux
Magnaflux is a global leader in nondestructive testing solutions, and partners with manufacturers, NDT test labs and field inspectors to make the world a safer place through NDT.
Our customers trust us to help them ensure the very best quality control for their most critical components with products and equipment for penetrant testing and mag particle inspection, along with NDT UV light and lamps, couplants for ultrasonic testing and other NDT products.
Our uncompromising stance on safety and performance is what sets us apart, and why generations of NDT professionals continue to rely on us.
More from Electrical Equipment & Systems