Stäubli Electrical Connectors Showcases Innovation, Safety at PowerTest 2018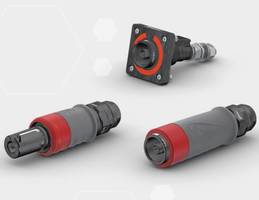 The company's innovative MULTILAM technology allows for connector solutions designed to perform in the most severe conditions for up to 1 million mating cycles
WINDSOR, Calif. (February 26, 2018) – Stäubli Electrical Connectors, Inc. (formerly Multi-Contact USA) will showcase its safe and highly reliable solutions for power transmission, test and measurement, transportation and a variety of other industries at the PowerTest 2018 trade show(Booth #215) in Washington, D.C., February 26 – March 2.
Over the past 50 years, Stäubli Electrical Connectors has established itself as an industry leader in high-quality connectors and test accessories, providing innovative solutions for customers across the globe. All Stäubli Electrical Connectors products benefit from the company's innovative MULTILAM technology, which features specially formed and resilient contact elements. Constant spring pressure from MULTILAM louvers ensures continuous contact with the contact surface, resulting in a constantly low contact resistance. This technology allows Stäubli to create solutions for connectors within the most severe constraints for up to 1 million mating cycles.
"As our power grid continues to expand, there is an ever-increasing need for dependable connections that also provide the capability for safe, quick disconnection when faults occur," said Christian España, sales and marketing manager, Stäubli Electrical Connectors. "Our company has always been focused on performance, dependability and repeatability, which uniquely positions us to service this rapidly growing industry with customizable solutions designed to improve safety and maximize efficiency." Stäubli Electrical Connectors' accurately fitting test accessories support extra-low to medium-high voltages, and direct-current to high-frequency measurement. The Test & Measurement product family includes a complete line of insulated test accessories for high-frequency engineering, as well as a wide range of highly flexible wire that meets and exceeds the most stringent safety requirements in the industry. The company's products can be found in electronics laboratories and training establishments, in service technologies and also in mains analysis/mains monitoring devices.
At PowerTest Stäubli will display its new 16BL single-pole high current connector system designed for severe requirements in utilities and industrial environments. These plug connectors are used as equipment connectors and couplers in industrial installations, energy storage, test stands and standby power units and are equipped with bayonet or push-pull lock to prevent inadvertent disconnection. Panel receptacles and couplers are single-pole plug connectors equipped with the company's proven MULTILAM technology, and contact inserts are made of silver-plated brass.
Also on display will be the single pole, insulated 21mm round connector, which complements 10BV and 16BV systems and adds a powerful solution with current carrying capacity up to 1000A for mobile power supply.
PowerTest features the largest group of electrical testing professionals in the industry featuring more than 100 exhibitors at the Gaylord National Convention Center in Washington, D.C. Stäubli provides innovative mechatronics solutions in the fields of electrical and fluid connectors, robotics and textile. Stäubli Electrical Connectors (formerly Multi-Contact USA) was established in 1982 and has been a part of the Stäubli Group since 2002. The Stäubli Group has more than 4,500 employees and a network of agents in more than 50 countries.
Visit www.staubli.com/electrical for more information on the company and products.
About Stäubli Electrical Connectors – North America
Stäubli Electrical Connectors – North America's headquarters is located in Windsor, California. Its product range includes interconnection systems for the most demanding applications in aerospace, medical, robotics, solar energy, general industry and test & measurement. Our plugs and sockets are designed for high performance, high mating cycles, low insertion and extraction forces, and are ideally suited for low- and high-current applications. We serve customers worldwide who aim to increase their industrial productivity without compromising quality, reliability or safety.
Stäubli is a global mechatronics solution provider with three core activities: Connectors, Robotics and Textile. We are an international group that currently operates in 29 countries, with agents in 50 countries on four continents. Our global workforce of 4,500 shares a commitment to partnering with customers in nearly every industry to provide comprehensive solutions with long-term support.
More from Construction Equipment and Supplies