SSL/TLS Middleware features integrated microcontroller stack.
Press Release Summary: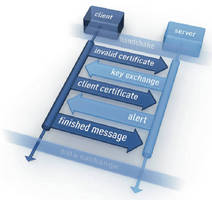 Used in conjunction with MISRA-compliant TCP/IP stack, SSL/TLS implementation provides optimal speed and memory utilization. Product can be used as Client or Host and is intended for microcontrollers, ensuring low memory footprint, typically around 20 KB ROM/8 KB RAM. HTTP or FTP Server support is provided for HTTPS and FTPS implementations or connection to any other secure client or server application. All mandatory cipher suites are supported, including AES, DES, DSS, EDH, MD5, RSA, and SHA.
---
Original Press Release:

HCC Embedded Releases MISRA-Compliant Embedded SSL/TLS Package That Brings New Levels of Embedded Security and Quality to the Internet of Things



Integrated microcontroller stack and SSL optimizes speed and memory utilization



San Jose, Calif. – HCC Embedded today announced the release of a SSL/TLS implementation designed for use in high quality, high performance embedded applications. When used in conjunction with HCC's MISRA-compliant TCP/IP stack, it provides an unrivalled combination of verifiable quality and optimal speed and memory utilization.



The new SSL/TLS implementation can be used as Client or Host and is designed especially for microcontrollers, ensuring a low memory footprint, typically around 20kB ROM / 8kB RAM. Typically it uses a standard sockets interface and will bring ease of integration to many embedded applications. HTTP or FTP Server support is provided for HTTPS and FTPS implementations or connection to any other secure client or server application.



Key features include:




SSL3.0, TLS1.0/1.1/1.2



Full certificate management



All mandatory cipher suites supported including AES, DES, DSS, EDH, MD5, RSA, SHA



All algorithms are implemented as individual libraries and, where possible, use crypto hardware support provided on specific microcontrollers.



The stack is provided with a full MISRA compliance report, and for specialized applications, a full UML description is available that can be licensed as a separate component.



Developed according to HCC's Advanced Embedded Framework (AEF) rules, the stack can easily integrate with any embedded RTOS, toolchain or microcontroller. Director of Marketing David Brook said, "Internet security is fundamental as embedded devices are connected to the Internet in increasingly innovative applications such as smart metering and medical devices. HCC is committed to solving the complex security issues such connectivity brings."



Visit http://www.hcc-embedded.com/ for more information.



About HCC Embedded

HCC Embedded is a leading supplier of advanced embedded middleware for storage and communication. Implementation is based on a strong process that produces robust, target independent software modules. The company offers an extensive family of products including fail-safe file systems, IPv4 & IPv6, USB software for host and device, flash translation layers, and eTaskSync verifiable scheduler.  Thanks to the Advanced Embedded Framework, HCC software will run seamlessly in most embedded environments regardless of OS, toolchain, or hardware.  All HCC Embedded products are distributed in full source form.



HCC Embedded Contacts:

HCC Embedded USA                                                                

444 East 82nd Street                                                                               

New York, NY 10028, USA         

+1-212-734-1345                                                                        

Bernard Mushinsky                                                                                           

info@hcc-embedded.com                                                          



HCC Embedded EU

24a Melville Street

Edinburgh EH3 7NS, UK

+44-7918-787-571

David Brook

www.hcc-embedded.com



WEB: http://www.hcc-embedded.com/

Twitter: http://twitter.com/HCCEmbedded

Facebook: http://www.facebook.com/HCCEmbedded

LinkedIn: http://www.linkedin.com/company/hccembedded

More from Chemicals & Gases