Square Rails reduce friction in linear guide system.
Press Release Summary: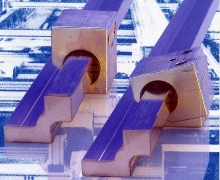 Designed for use in DryLin® W modular linear guide system, DryLin® WQ square rails reduce friction and ensure that loads are evenly distributed. In applications where rail does not travel across level plane, plastic liner, made with engineered polymer iglide® J200, can be adapted to float and realign based on differentiating heights. Available in 20 and 6 mm sizes, products are suited for use in packaging, printing, and machine tool industries.
---
Original Press Release:

igus Adds DryLin WQ Square Rails to Its Line of Compact, Versatile, Modular Linear Guide Systems


Square design enables compensation for height differences and reduced friction

EAST PROVIDENCE, R.I. - August 31, 2004 - igus® Inc. today announced the latest addition to its DryLin® W linear guide system. DryLin WQ square rails further add to the versatility and flexibility of the modular DryLin W line by reducing friction and providing the ability to compensate for varying heights. Along with the addition of DryLin WQ comes the introduction of a new polymer material designed specifically for use in linear applications.

The square-shaped design of DryLin WQ ensures that loads are evenly distributed and lowers the amount of friction encountered by the rail. In applications where the rail does not travel across a level plane, the plastic liner can be adapted to float and realign based on differentiating heights.

These plastic liners are made with a new engineered polymer, iglide® J200. Iglide J200 is used exclusively with DryLin W and is designed to provide further reductions in friction. The reduction can reach as low as 20 percent less than the standard DryLin W round rail, for those applications requiring a high degree of friction resistance. Iglide J200 also decreases wear rates by 34 percent.

In general, DryLin WQ can support higher loads than other systems of similar size. It is an ideal solution for the packaging, printing and machine tool industries.

DryLin WQ is immediately available in two sizes, 20 millimeters and 6 millimeters. Additional sizes will be forthcoming. DryLin WQ is part of the DryLin W linear guide system introduced in the fall of 2003. DryLin W is a modular, low-cost, extremely compact and easy to install solution. It is available in multiple rail configurations to provide more design freedom.

DryLin linear guide systems are an ideal replacement for re-circulating ball bearings due to their maintenance-free, oil-free and self-lubricating operation. Unlike ball bearings, contaminants cannot build up in DryLin. This prevents performance degradation or shaft damage. DryLin bearings and guide systems have a low coefficient of friction, are corrosion-resistant and wear-resistant. The DryLin family also includes DryLin R linear plain bearings, DryLin T linear slides, DryLin N micro slides, Quadroslide preassembled slide units and DryLin S anodized aluminum shafting.

About igus

Igus Inc., founded in 1985 and based in East Providence, R.I., develops and manufactures industry-leading plastic cable carriers, continuous-flex cables, plastic bearings and linear guide systems. With more than 28,000 products available from stock, the company meets the motion control and machinery component needs of customers worldwide. Product lines include Energy Chain Systems® to protect and house moving cables, Chainflex® continuous-flex cables, iglide® self-lubricating, oil-free, plastic bearings, DryLin linear guide systems and igubal® spherical bearings. For more information contact igus at (888) 803-1895 or visit www.igus.com.

igus, DryLin, Energy Chain Systems, Chainflex, iglide, and igubal are registered trademarks of igus Inc