Square D® Expands its Energy and Power Management Capabilities with ION® Solutions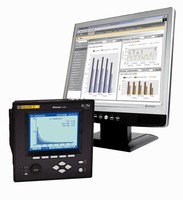 PALATINE, Ill. - January 8, 2007 - Schneider Electric today announced that it is expanding the breadth of its Square D® PowerLogic® energy and power management products in the United States to include ION® enterprise energy management products and solutions. As part of the PowerLogic family, ION hardware products now carry the Square D brand and PowerLogic names. Available through authorized Square D distribution channels immediately, ION products provide tools to help businesses control the cost, quality and reliability of their power. Schneider Electric purchased and integrated Power Measurement, Inc., and its ION technology into the company's PowerLogic business unit in 2005.

"The inclusion of ION products to PowerLogic's portfolio of advanced energy and power management solutions gives energy suppliers and consumers access to the industry's broadest range of products and services designed to control the cost and quality of their energy," says Gregg Morasca, Powerlogic sales and marketing director, Schneider Electric North America. "The union of two global leaders in enterprise energy and power management provides us with a wealth of opportunities to introduce new and existing PowerLogic customers to the outstanding quality, reliability and service synonymous with the Square D brand."

Morasca also added that integrating both organizations and their respective product and service lines into a single range of energy and power management offerings demonstrates Schneider Electric's continuing pursuit of technological innovation as the company enhances its leadership position as a provider of energy efficient solutions. "Customer needs have remained the company's highest priority throughout the integration and rebranding process, and all the past benefits of PowerLogic and ION solutions remain," he says.

The company's energy and power management systems provide organizations of virtually any size with monitoring, control, automation and reporting capabilities to lower energy costs, improve reliability and increase efficiency. PowerLogic solutions are designed to answer the needs of diverse applications from power quality management through energy cost control, operations management, billing support, distributed generation and many others.

In addition to Web-ready smart meters and a full portfolio of software solution, Square D also is rebranding additional products and services designed uniquely for utilities and energy service providers, including innovative Instrument Transformer Services (ITS) and a hosted software solution for retail energy services.

Headquartered in Palatine, Ill., the North American Operating Division of Schneider Electric had sales of $2.8 billion (U.S.) in 2005. The North American Operating Division is one of four operating divisions of Schneider Electric, headquartered in Paris, France, and markets the Square D, Telemecanique and Merlin Gerin brand products to customers in the United States, Canada and Mexico. In the United States, Schneider Electric is best known by its flagship Square D brand, with Telemecanique becoming increasingly known in the industrial control and automation markets and supported by many Square D distributors. For 100 years, Square D has been a market-leading brand of electrical distribution and industrial control products, systems and services. Schneider Electric is a global electrical industry leader with 2005 sales of approximately $14.5 billion (U.S.). Visit Schneider Electric on the Internet at:

Corporate - www.us.schneider-electric.com
Telemecanique Products - www.us.telemecanique.com
Square D Products - us.squared.com
Merlin Gerin Products - us.merlingerin.com

This release is submitted for consideration in both print and Web publications.

Please send all reader inquiries to:
Square D Literature Fulfillment Center
W6545 Quality Drive
Greenville, WI 54942
Attention: Sue Tebo
800-392-8781
or e-mail to: SquareD@banta.com

Schneider Electric
North American Operating Division
1415 South Roselle Road
Palatine, IL
60067-7399
Tel. (1) 847-397-2600
Fax (1) 847-925-7271
http://www.us.schneider-electric.com

If you would rather receive Schneider Electric news releases via regular mail, please reply to this email. To be removed from the Schneider Electric news release mailing list, please click here to notify us via e-mail.

To download the photo, visit http://home.bader-rutter.com/schneider/nr085/large_photo.html.