Spray Valve Control System provides repeatable performance.
Press Release Summary: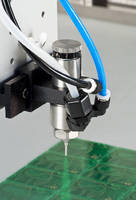 Available in 3, 12, and 18 mm spray paths, SV2000N minimum overspray valves are suitable for urethanes, flux, and silicone coatings. Valves are actuated by air pressure sequenced by SVC100 controller. Air pressure opens needle in valve allowing material to flow, while separate air-line creates pressure in valve exit cap, atomizing fluid. Controller sequences time relationship between fluid start signal and atomizing signal, which is critical in cleaning spray nozzle after each spray cycle.
---
Original Press Release:

SVC100 Precision Spray Control System



Fisnar Inc. brings together an enhanced SV2000N series of close tolerance, minimum overspray valves with a precision SVC100 controller that manages the functions necessary to provide repeatable and precise spray performance.



SV2000N valves are available in 3, 12 & 18mm spray paths, suitable for urethanes, flux and silicone coatings. Valves are actuated by air pressure sequenced by the SVC100 controller. Air pressure opens a needle in the valve allowing material to flow; a separate air-line creates pressure in the valve exit cap atomizing the fluid.



The controller sequences the time relationship between a fluid start signal and an atomizing signal. This feature is critical in cleaning the spray nozzle after each spray cycle, by ensuring that the fluid atomizing pressure opens before the fluid -line pressure and that the atomized pressure stays open momentarily after the fluid-line pressure shuts off.



The system can be easily installed to existing production lines with signal control or used as a bench mounted spray station.



About Fisnar: Fisnar Inc. is a world leader in fluid dispensing and dispensing automation.  Fisnar Inc. manufactures solutions for adhesive, glue, silicone, RTV, anaerobic resin, epoxy, urethanes, flux, UV cure formulations and many more fluids. Fisnar® Inc. can be contacted directly at 973-646-5044 or by logging onto: www.fisnar.com



Contact Information:

James Dornan

Marketing Manager

Fisnar Inc.

jdornan@fisnar.com

More from Packaging Products & Equipment