Spray Guns feature lightweight, ergonomic design.
Press Release Summary: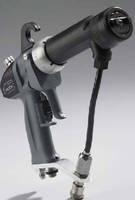 Combining air-assisted airless technology with electrostatic features, Vector AA90 comes in Classic and Cascade models with maximum fluid delivery of 1,000 cc/min and operating pressures of 100 psi air and 2,800 psi fluid. Units are available with variety of air cap and fluid tip combinations and are capable of applying full spectrum of coating materials. FM and ATEX tested and approved, guns can be used worldwide in paint booths and hazardous locations.
---
Original Press Release:

Vector AA90 Spray Gun



TRANSFORMING ELECTROSTATIC TECHNOLOGY

DESCRIPTION

ITW Ransburg expands the Vector line of manual electrostatic spray guns with the introduction of the Vector AA90 air-assisted airless gun. The Vector AA90 is a rugged, yet lightweight spray gun designed with the painter in mind.

The Gun combines superior air-assisted airless technology with powerful electrostatic features, all in one gun. The integration results in a comfortable, lightweight spray gun with superior spray pattern characteristics, unmatched pattern adjustability and
extraordinary transfer efficiency.

Vector AA90 is available with an extensive selection of air cap and fluid tip combinations to ensure optimum performance is achieved with the coating materials you are using today and in the future.

Electrostatic power with flexibility....The gun is available in classic or cascade technology. You select the system most suited for your application.

FEATURES AND BENEFITS

o Vector AA90 Classic...The perfect combination of lightweight and simplicity

o Vector AA90 Cascade...Designed for those applications where greater control of electrostatic power output is desired

o Lightweight...engineered polymers and advanced molding techniques makes the gun lightweight, reducing operator fatigue

o Rugged...durable, reliable design and reduced number of parts increases reliability while reducing maintenance

o Ergonomic...reduced weight and slim, comfortable handle offers maximum operator comfort

o Reduced Fatigue...light trigger pull decreases repetitive motion and effort by the operator

o Air Cap/Fluid Tip Selection...a wide variety of orifice sizes and pattern lengths offer optimal flexibility

o Versatile...Vector AA90 guns are capable of applying a full spectrum of coating materials

o FM and ATEX (CE Listed)...tested and approved for worldwide use in paint booths and in hazardous locations

SPECIFICATIONS

IL-8861 03/07-1M

Copyright 2007 ITW Ransburg. All rights reserved.

Models and specification subject to change without notice

SPECIFICATIONS FOR VECTOR AA90 CLASSIC/CASCADE:

Atomization Type: Air-Assisted Airless

Length: 11.5in. / 29.2 cm

Weight:

Vector AA90 Classic: 25 oz. / 708 grams

Vector AA90 Cascade: 28 oz. / 793 grams

Operating Pressures: Air - 100 psi (6.8 bar)

Fluid - 2800 psi (193 bar)

Maximum Fluid Temp: 150°F / 65°C

Maximum Fluid Delivery: 1,000 cc/min

Tip Voltage: 85kV maximum

Maximum Current: 90µA

VECTOR AA90 OPTIONS:

FLUID TIPS -

Part No. Orifice inch/mm Pattern inch/mm

79609-0409 0.009/.23 4/101

79609-0413 0.013/.33 4/101

79609-0811 0.011/.28 8/202

79609-0813 0.013/.33 8/202

79609-1011 0.011/.28 10/254

79609-1015 0.015/.38 10/254

79609-1021 0.021/.53 10/254

79609-1213 0.013/.33 12/305

79609-1219 0.019/.48 12/305

79609-1615 0.015/.38 16/406

79609-1619 0.019/.48 16/406

*All Vector Guns shipped with P/N 79609-1015 as the standard Fluid Tip

ELECTRICAL CABLE LENGTHS -

Classic Cascade

Cables: Feet Meters Cables: Feet Meters

Cable 79519-10 32.8 10 79338-01 3.2 1

Cable 79519-15 49.2 15 79338-10 32.8 10

Cable 79519-20 65.6 20 79338-15 49.2 15

Cable 79519-30 98.4 30

ITW Ransburg

320 Phillips Ave., Toledo, Ohio 43612-1493 USA

Tel: +1-419-470-2000 Fax: +1-419-470-2270

General email: marketing@itwransburg.com

web: www.itwransburg.com

ACCESSORY AREA

Gun Covers - Protect your investment from overspray and dirt with gun covers engineered for a unique fit and made with electrically neutral, anti-static material.

Conductive Gloves - Reduce the possible build up of static charges by ensuring the user is grounded to the spray gun; wearing conductive gloves will keep the user and the gun at the same electrical potential.

Air Hose - A highly durable and abrasion resistant air hose is available in various lengths or bulk reels.

Fluid Hose - Flexible, strong and production proven fluid hose.

Waterborne Fluid Hose - professionally engineered, safety tested and approved for the most demanding applications.

More from Electronic Components & Devices