Spray Gun is suitable for coating contractors.
Press Release Summary: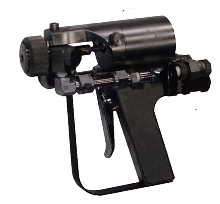 Spray gun is designed for low volume spray applications with polyurea, polyurethane, or other dual component coatings. Its design allows for precise control of amount of material applied. User can achieve between 7 to 10 mils of coverage at discharge rate of less than 1 lb/min. Nozzle design with air ports and 360 deg coverage ensures consistent spray pattern and coverage. Gun also features material filters and mechanical purge rod.
---
Original Press Release:
Perma-Tech Adds Low Output Gun to Equipment Line

CLEVELAND - Perma-Tech Industrial Coatings has expanded its line of coatings spray equipment to include a low output spray gun in addition to the standard Probler gun. The low output gun, available to coatings contractors exclusively from Perma-Tech Industrial Coatings, is the newest addition to the company's complete line of spray equipment for high-performance coatings.

The low-output gun is designed for low volume spray applications with polyurea, polyurethane or other high-performance, dual component coatings. The gun design allows for more precise control of the amount of material applied, minimizing wasted chemicals on smaller jobs.

With the new Perma-Tech gun, the applicator can achieve between 7 to 10 mils of coverage at a discharge rate of less than 1 pound per minute. The gun's unique nozzle design, with extra large air ports and 360° coverage, assures the applicator of a consistent spray pattern and coverage, even at low mil rates.

Material filters on the Perma-Tech gun seal completely to prevent bypass of material, virtually eliminating concerns about clogging. Applicators can select the best tip for the job without concerns about clogs at the gun.

A mechanical purge rod instead of air purging or solvent flushing simplifies cleanup. The purge rod's one-piece design and titanium nitrate coating make it durable and abrasion-resistant. After cleaning, the assembly readily re-seats itself when the gun is triggered, reducing maintenance time.

Perma-Tech manufactures and markets a line of high-performance industrial coatings, the Blue Machines coatings application equipment and custom equipment trailers and provides contractor training at corporate headquarters in Cleveland, Ohio. Opportunities are available nationwide for independent contractors and applicators to join the expanding Perma-Tech network. For more information contact:

Perma-Tech

23100 Miles Road

Cleveland, Ohio 44128

Phone: 888-885-4637 toll-free

216/663-7200

FAX: 216/663-7202

www.perma-tech.com