Cleaning Compounds and Chemicals
Spray Cleaning System cleans dumpsters and dock areas.
Press Release Summary: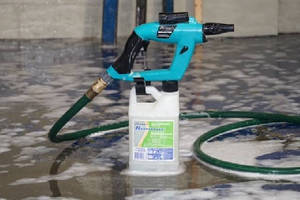 Designed to attach to hose, Dock and Dumpster System cleans dumpsters and heavily soiled dock areas. User fills sprayer with Avmor's Biomor microbial cleaning solution and sprays all areas of dumpster, inside and out. Product digests soils, eliminates odors, and attacks organic matter with no need for user to touch soiled surfaces. System is suited for use in all types of facilities, from restaurants and industrial locations to schools and office buildings.
---
Original Press Release:

Dumpster Cleaning as Easy as Spray and Walk Away



Avmor introduces a unique cleaning system designed specifically for cleaning dumpsters and heavily soiled dock areas.  The Dock and Dumpster system attaches to a hose.  Fill the sprayer with Avmor's Biomor microbial cleaning solution and spray all areas of the dumpster, inside and out.



The Dock and Dumpster digests soils, eliminates odors, and attacks organic matter.  It's fast, easy, safe, and requires no touching of soiled surfaces.  Perfect for use in all types of facilities, from restaurants and industrial locations to schools and office buildings.



For more information, visit www.avmor.com or contact customer service at clientservice@avmor.com.



About Avmor Ltd.: Avmor was founded in 1948 by Avrum Morrow and Henry Chinks.  Avmor's commitment to ISO 9001 and ISO 14001 as well as cGMP (current Good Manufacturing Practices) procedures signifies an understanding that maintaining an environmentally sound, sustainable expertise is a work ethic as much as it is an integral component of Certified cleaning products.  Our UL ECOLOGO and Greenguard Gold and FDA certifications attests to our dedication to quality, performance, and commitment as well as our responsibility to always provide optimal cleaning solutions while maintaining and enhancing health and safety standards.  Remaining Canada's leading provider of professional cleaning solutions, Avmor's sustainable and traditional cleaning solutions and training programs promote effective, efficient, healthier, and sustainable practices that exceed performance expectations and environmental requirements.  For more than 65 years, Avmor has remained at the industry forefront, defining product performance standards and striving for the safest and most cost-effective cleaning systems for professional use.  Avmor Ltd. is a privately held company.



Contact:

Lai-Na Wong

Marketing Manager

Tel: 450-629-8074 Ext. 2320

lwong@avmor.com









Related