Spot Welding Robots feature fully integrated software.
Press Release Summary: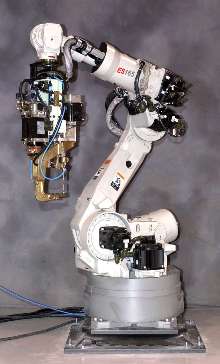 Six-axis, Expert Spot Models ES165 and ES200 offer payloads of 36.383 lb and 441 lb, respectively. Both feature 104.3 in. reach and repeatability of ±0.008 in. Internal cabling design routes servo gun cables and utilities through robot's upper arm. XRC control can operate up to 4 robots and 36 axes, reducing risk of collision. With Multiple Robot Control, robots can perform synchronous transfer of large parts using all 4 robots to lift and carry at same time.
---
Original Press Release:
Exciting New Design of Motoman ES165 and ES200 "Expert Spot" Robots Offers Fully Integrated Spot Welding

Dayton, Ohio - Motoman's new, six-axis ES165 and ES200 robots make spot welding easy with fully integrated software and a revolutionary design that routes servo gun cables and utilities through the robot's upper arm.

These robots are designed specifically to optimize spot welding performance and offer many benefits, including an expanded work envelope, the highest speed in their class, industry-leading cable durability, extra freedom of motion, and integrated software for spot welding guns with servo-motor drives.

The ES165 has a 165-kg. (363.83-lb.) payload, and the ES200 has a 200-kg. (441-b.) payload. Both six-axis robots feature a 2,650-mm (104.3-in.) reach and a repeatability of ±0.2 mm (±0.008-in.)

The work envelope extends behind the body, allowing tools to be placed behind the robot and providing easy access to the weld guns for maintenance. Cable life span is six or more times
longer than that of traditional cables. Regular replacement interval for the internal cables is about 24,000 hours versus 2,000 to 4,000 hours for general-purpose spot welding robots with external cabling. This extreme durability reduces the need for spare parts and also reduces downtime. The new cabling design also improves the wrist moment allowance, which is sufficient for a large spot welding gun. Quick connectors allow fast, easy replacement of internal cables, which further
reduces downtime.

Safety improvements include a changeable mechanical stopper that can be installed on three major axes, and S-axis zone limit switches that can be installed at the same time as the spot welding cable. The Multiple Robot Control capability of the XRC allows the ability to operate up to four robots from a single controller - offering a patented method of multiple robot control, as well as a single point of control from one programming pendant to maximize productivity.

Multiple Robot Control reduces the risk of collision. Using a single controller versus four separate controllers also reduces integration costs due to less I/O and safety hardware, fewer
wiring points, and reduced wiring and engineering labor.

The ES165 and ES200 offer many advantages for high-density installations. The internal cabling design of the ES165 and ES200 robots improves access into tight spaces, such as car bodies on automotive spot welding lines. One XRC controls 36 axes, including four robots with servo guns. Additionally, using Multiple Robot Control, these robots can and perform synchronous
transfer of a large part, such as an auto body, to the next station using all four robots to lift and carry at the same time.

For more information on the ES165 and ES200 Easy Spot robots or other Motoman products and services, call 937.847.6200, write to Motoman Inc., 805 Liberty Lane, West Carrolton, Ohio,
USA 45449, or visit the corporate website at www.motoman.com.
More from Adhesives & Sealants