Splicing System facilitates pigtail splicing of magnet wire.
Press Release Summary: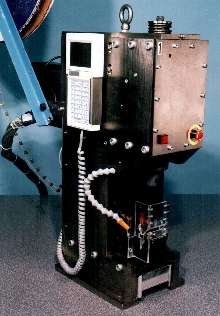 Magnet Wire Splicing System allows manufacturers of motors and magnetic coils to pigtail splice up to 8 magnet wires and 2 lead wires with Circular Mill Area (CMA) up to 38,000. Servomotor-driven, 5 ton press incorporates pneumatic-feed applicator and programmable control cabinet. Wire-entry guides allow accurate positioning of magnet and lead wires into splice before crimping. Programmable machine is capable of crimp height sequencing.
---
Original Press Release:

Splicing More Magnet Wires Now Possible with New Machine from Tyco Electronics


HARRISBURG, Pa. June 24, 2003 - Tyco Electronics Corporation has designed a new magnet wire splicing system that allows manufacturers of motors and magnetic coils to more efficiently and effectively pigtail splice magnet wires and lead wires. Previously, when magnet wire coil design called for pigtail splicing a Circular Mill Area (CMA) of more than 22,000, manufacturers had to use more than one splice; increasing production time, component cost and manufacturing steps. Now, manufacturers can splice up to 38,000 CMA, which in a typical installation, can be up to eight magnet wires and two lead wires. The new power splice crimping system from Tyco Electronics can be used in motor manufacturing applications like hermetic/compressor motors, squirrel cage DC motors, capacitor start motors, power supplies and other coil-wound magnetics applications.

The workhorse of the new crimping system is a servo motor driven five-ton press. The compact press design incorporates a pneumatic-feed applicator and control cabinet. The applicator is equipped with specialized features which facilitate efficient wire management. The efficient wire entry guides, or "Duck Lips", allow operators to quickly, easily and accurately position magnet wires and lead wires into the splice before the crimping process. Proper wire placement is important in obtaining the highest quality splice. The machine completes the crimp cycle without stripping the magnet wire varnish.

The fully programmable control cabinet, which can control up to two presses, is equipped with a hand-held input module which allows operators to configure and control machine operation.

Furthermore, the machine is capable of crimp height sequencing and can be programmed to perform crimps for several splice configurations, helping reduce machine set-up times.

For more information, contact Steve Cerquone at 717-810-2950 or
scerquone@tycoelectronics.com. Additional information available at newproducts@tycoelectronics.com 1-800-522-6751 or on the web at www.tycoelectronics.com

ABOUT TYCO ELECTRONICS
Tyco Electronics is the world's largest passive electronic components manufacturer; a world leader in cutting-edge wireless, active fiber optic and complete power systems technologies; and is also rapidly developing extensive networking and building technology installation services. Tyco Electronics provides advanced technology products from over forty well-known and respected brands, including Agastat, Alcoswitch, AMP, AMP NETCONNECT, Buchanan, CII, CoEv, Critchley, Elcon, Elo TouchSystems, M/A-COM, Madison Cable, OEG, OneSource
Building Technologies, Potter & Brumfield, Raychem, Schrack, Simel and TDI Batteries.

TYCO is a trademark

More from Thermal & Heating Equipment