Spiral Hoses suit heavy-duty applications.
Press Release Summary: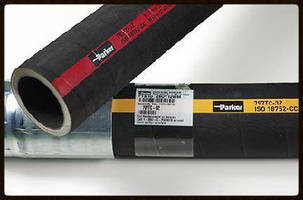 Offered in -24 and -32 sizes with pressure ratings of 5,000 and 6,000 psi, no-skive Compact Spiral™ Hoses weigh less than SAE spiral hose and have smaller bending radii. Hoses are tested up to 2,000,000 impulse cycles and are available with nearly 300 fitting configurations. Offering direct routing options, large sizes meet market needs in oil and gas, mining, forestry, and heavy off-road equipment applications.
---
Original Press Release:

Parker Expands Compact Spiral Hose Line for Heavy-duty Applications



Smaller O.D. and superior flexibility reduce design limitations, make installation and routing easier



Cleveland — When Parker Hannifin's high-pressure, no-skive Compact Spiral™ hose was introduced in 2009, it raised the bar for flexibility, strength, endurance and weight. Now Parker is adding two new hose sizes typically used in heavy-duty equipment, -24 and -32, as well as adding new fitting end configurations for many applications. 



The -24 and -32 Compact Spiral hoses are available in 5,000 psi (787TC) and 6,000 psi (797TC). Both weigh less than standard SAE spiral hose, have smaller O.D.s (outside diameters) and smaller bending radii. For larger hose sizes, weight reduction and improved flexibility are particularly significant advantages. Standard -24 and -32 spiral hoses are nearly rigid, which imposes design limitations and makes hose assembly routing difficult, exhausting and time consuming.



Parker's Compact Spiral hose is nearly 30 percent smaller and up to 26 percent lighter. Its bend radius is half that of SAE spiral hose, and it takes one-third less effort to bend. Those attributes provide heavy-equipment OEM design engineers new opportunities for more efficient hose routing paths and make installing or replacing damaged hoses easier.



A minimum bend radius does not necessarily mean that an installer can easily bend the hose into that shape. The proprietary design and construction of Compact Spiral hose makes it the most flexible hose in the most difficult to achieve international standard - ISO 18752. By using Compact Spiral, installers can save valuable time and effort when routing hoses in their equipment.



Since its introduction, Compact Spiral hose has made significant inroads with OEM manufacturers in the off-highway, truck and trailer and industrial machinery applications. Users cite both the design and assembly advantages of the hose - it requires a smaller footprint, is easier to connect and reduces installer fatigue.



The new large sizes are designed to meet market needs in oil and gas, mining, forestry and heavy off-road equipment applications.



Along with the new hose sizes, Parker added more than 60 new fitting end configurations to its 77 Series steel fitting line for Compact Spiral hose. Nearly 300 fitting configurations are now available.



About Parker Hose Products Division's Compact Spiral hose:

Rated to 5,000 psi (787TC) and 6,000 psi (797TC); highly abrasion resistant hose covers (80-times more abrasion resistant compared to standard rubber covered hose).

Flex impulse tested and tested up to 2,000,000 impulse cycles - four times the SAE and twice the ISO standard.

Improves flow characteristics while maintaining same OD size, or provides equal flow characteristics by maintaining ID size while reducing OD size.

More direct routing options require less hose, reducing inventory amount of hose needed as well as shipping and packaging costs.

Almost 30 percent smaller O.D., up to 26 percent lighter and bend radius is 50 percent better than current industry standards.

Available sizes: -8, -10, -12, 16, -20, -24 and -32.



About Parker Hannifin's Hose Products Division

The Hose Products Division is a unit of Parker Hannifin Corporation's Fluid Connectors Group. The Group is headquartered in Cleveland, Ohio, and is the world's leading producer of tube fittings, rubber and thermoplastic hose and fittings, brass fittings and valves, quick-connect couplings and assembly tools. Learn more about the 5,000 PSI and 6,000 PSI no-skive Compact Spiral Hose.



With annual sales of $13 billion in fiscal year 2013, Parker Hannifin is the world's leading diversified manufacturer of motion and control technologies and systems, providing precision-engineered solutions for a wide variety of mobile, industrial and aerospace markets. The company employs approximately 58,000 people in 49 countries around the world. Parker has increased its annual dividends paid to shareholders for 57 consecutive fiscal years, among the top five longest-running dividend-increase records in the S&P 500 index. For more information, visit the company's website at http://www.parker.com or its investor information website at http://www.phstock.com.

More from Material Handling & Storage