Spindles offer speed range of 1,000 to 20,000 rpm.
Press Release Summary: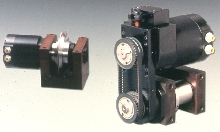 Variable speed, MaxTorq rotary spindles mount on new and existing grinders and achieve grinding tolerances as close as 80 millionths run out. Lengths range from 4 to 16 in. All spindles have completely sealed electric motors for use in hostile coolant environments. Reversible rotation provides flexibility for dressing all conventional and superabrasive wheels.
---
Original Press Release:
New Line of Variable Speed Rotary Spindles for Plunge and Traverse Dressing of Diamond and CBN Wheels

- Saint-Gobain's new MaxTorq Spindles designed for abrasive finishing of automotive, aerospace, bearing, cutting tools and other high tolerance components -

WORCESTER, MA, June 17, 2002-Saint-Gobain's Wheel Dressing division has introduced a line of dressers that are easy to mount on new and existing grinders. These MaxTorq spindles are capable of achieving grinding tolerances as close as 80 million run out.

The reversible rotation of the MaxTorq spindles provides the flexibility for dressing all conventional and superabrasive wheels. The high torque capability and speed range of 1,000 to 20,000 rpm allows them to maintain a constant rotational speed under the highest dressing loads.

The compact design of the MaxTorq spindles requires minimum machine space, and their precision base results in accurate mounting onto any machine. MaxTorq spindles are available in spindle lengths from 4 to 16 inches to accommodate a wide range of space requirements. The dresser's custom design spindle diameter allows the use of existing diamond rolls and bolt circle. All MaxTorq spindles have completely sealed electric motors for use in hostile coolant environments.

Wheel Dressing is a brand of Saint-Gobain Abrasives, a division of Saint-Gobain. Saint-Gobain, one of the top 100 industrial companies in the world, is a leading producer of abrasives, building materials, flat glass, insulation, reinforcements, packaging, pipe, ceramics and plastics. Headquartered in Paris, Saint-Gobain's annual sales approximate $27 billion. The company has 170,000 employees in 45 countries. In the U.S. and Canada, Saint-Gobain employs 28,000 people, and has about 200 manufacturing locations. Its total U.S. and Canada sales in 2001 were $6.4 billion. Saint-Gobain's web site is www.saint-gobain.com.

Contact:

Barry Cole

Norton Abrasives

508-795-5709

Barry.D.Cole@saint-gobain.com


Saint-Gobain Abrasives, Inc; One New Bond Street; PO. Box 15008; Worcester, MA 01615-0008; www.nortonabrasives.com
More from Machinery & Machining Tools