Spindle Lift Tables integrate into linear guide systems.
Press Release Summary: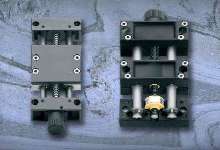 DryLin SLW is a flat linear table with spindle drive that delivers high torsional strength at just over 1 1/8 in. high. DryLin HTSP is a plastic spindle lift table with DryLin R linear bearings. Equipped with plastic crossbars and slides, unit is corrosion- and lubrication-free. Stroke is adjustable, either manually or by servo motor. Both tables are suited for use in packaging and textile industries.
---
Original Press Release:

New DryLin Spindle-Lift Tables From igus Enhance Options and Lower Costs for Linear Guide Systems


EAST PROVIDENCE, R.I. - June 21, 2004 - igus® Inc. today announced new additions to its line of spindle-lift tables used in DryLin® linear guide systems. The two new lifts increase design options and lower costs. New DryLin SLW is a compact, flat linear table with a spindle drive. It's the first spindle-lift table available as part of the DryLin W linear guide system. DryLin HTSP is a low-cost, plastic spindle-lift table available with DryLin R linear bearings.

DryLin SLW delivers extreme torsional strength at a height of just over one and one-eighth inches. This low-clearance design is ideal for tight space restrictions and opens the door to a wider variety of applications. It's also the first lift table available with the new DryLin W linear guides. DryLin W is a modular, low-cost, extremely compact and easy to install solution. It is available in multiple rail configurations to provide more design freedom.

DryLin HTSP is equipped with plastic crossbars and slides, making it the first plastic spindle-lift table from igus. DryLin HTSP is lightweight, corrosion-free and lubrication-free. Weight can even be further reduced by combining the table with a carbon shaft and aluminum spindle. The stroke is always adjustable, either manually or by a servo motor. By using its high-performance polymers to build the spindle table, igus is able to significantly lower the cost.

Both products are well-suited for use in the packaging and textile industries. DryLin linear guide systems are an ideal replacement for re-circulating ball bearings due to their maintenance-free, oil-free and self-lubricating operation. Unlike ball bearings, contaminants cannot build up in DryLin. This prevents performance degradation or shaft damage. DryLin bearings and guide systems have a low coefficient of friction, are corrosion-resistant and wear-resistant. The DryLin family also includes DryLin R linear plain bearings, DryLin T linear slides, DryLin N micro slides, Quadroslide preassembled slide units and DryLin S anodized aluminum shafting.

DryLin is a member of the iglide® suite of plastic bearings which offers customers the choice of more than 6,000 imperial and metric bearing sizes from stock. Iglide plastic bearings are a convenient, cost-effective alternative to bronze, metal-backed and custom injection-molded bearings. All iglide bearings are self-lubricating and maintenance-free. The plastic-based construction eliminates corrosion and delivers better vibration dampening than metal bearings.

DryLin SLW and HTSP spindle-lift tables are available in select sizes. Please call igus at (800) 803-1895 for details.

About igus
Igus Inc., founded in 1985 and based in East Providence, R.I., develops and manufactures industry-leading plastic cable carriers, continuous-flex cables, plastic bearings and linear guide systems. With more than 28,000 products available from stock, the company meets the motion control and machinery component needs of customers worldwide. Product lines include Energy Chain Systems® to protect and house moving cables, Chainflex® continuous-flex cables, iglide self-lubricating, oil-free, plastic bearings, DryLin linear guide systems and igubal® spherical bearings. For more information contact igus at (888) 803-1895 or visit www.igus.com.

igus, DryLin, iglide, Energy Chain Systems, Chainflex and igubal are registered trademarks of igus Inc. All other company names and products are trademarks or registered trademarks of their respective companies.

More from Services