Spill Containment System reduces installation time.
Press Release Summary: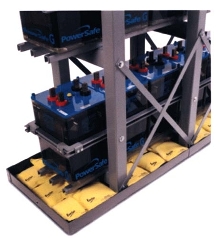 Spill Containment System absorbs and neutralizes electrolyte leaks from wet lead-acid batteries. Six mil thick, flame retardant plastic liner fits under and over exterior barrier frame, eliminating need for special floor preparation. Non-corrosive 4 in. barrier is constructed of PVC. System has been tested to Article 64 of Uniform Fire Code, and meets Uniform Building Code, National Building Code, National Fire Code, OSHA, NFPA, NEC, and Title 40 CFR.
---
Original Press Release:
Improved Spill Containment Systems From Enersys Provides Fast, Easy Installation and Reduced Costs

Reading, PA, June 2002 - EnerSys Inc. (formerly Yuasa, Inc.) Reserve Power Group has introduced a new family of spill containment systems that reduce installation time and costs. The systems include a 6-mil thick, flexible flame retardant plastic liner that fits snugly and easily under and over the exterior barrier frame. This eliminates the need for special floor preparation or treatment prior to installation that is required by similar systems. The liners are also easily cut to size for the available space needed.

The new systems, for absorbing and neutralizing electrolyte leaks from wet lead-acid batteries, are ideal for any telecommunications, Uninterruptible Power Supply (UPS), switchgear or utility application that requires a DC power supply.

The systems also include a unique 4-inch non-corrosive barrier, which users install by simply clipping the barrier pieces together, eliminating the need to bolt or anchor the
barriers to the floor. This makes the spill containment system easy to remove if a battery needs to be replaced. The barriers are constructed of PVC, compared to steel used in other systems, so they can be quickly modified to the proper size needed for
new or retrofit systems manufactured by EnerSys or other suppliers.

The spill containment systems have been independently tested to Article 64 of the Uniform Fire Code (UFC), and also meet all other relevant regulations and codes including the Uniform Building Code, National Building Code, National Fire Code,
OSHA, NFPA, NEC and Title 40 CFR.

Rails, liners, walls, self-neutralizing pillows, spray adhesive and sealant are standard with all EnerSys spill containment systems. EnerSys also offers optional flame retardant non-neutralizing pillows. All system components and hardware are supplied as a complete turnkey kit system.

Pricing for a spill containment system for a 48 V, 3900 Ah battery on a two-tier, 16-foot rack is $2,300. Delivery is 3 weeks ARO.

For more information, contact Debra Burkhardt, EnerSys Inc., P.O. Box 14145, Reading, PA 19612-4145. Tel: 800/538-3627; Fax: 610/372-8613; E-mail: burkhardtd@enersysinc.com; Web: www.enersysinc.com.

EnerSys Inc. is the world's leading provider of stored DC power products, systems and services. The Reserve Power Group provides batteries and power systems to telecommunications, uninterruptible power supplies, security, utilities/switchgear, military/aerospace and a variety of other electronics markets. The company was formed in January 2001 with the acquisition of the Stationary Power (now Reserve Power) and Motive Power units of Yuasa, Inc. by company Management and Morgan Stanley. In March of 2002, EnerSys Inc. purchased the Hawker Energy Storage Products Group of Invensys pic., making
the company the largest worldwide manufacturer of lead-acid batteries for stand-by power applications.
More from Mechanical Power Transmission