Spill Containment Stand as Versatile as You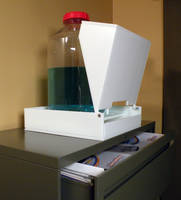 Under counter access due to fold away spill trough https://www.dynalon.com/PublicStore/product/NEW-Folding-Spill-Containment-Stand,804,391.aspx
Rochester, NY (3/22/17) - Dynalab Corp. has designed an innovative spill containment stand that is designed for bench-top use with a folding feature to allow access to drawers and other materials below. Manufactured of 3/8" High Density Polyethylene, this heavy duty spill tray will hold carboys up to 15" in diameter.
Main spill containment tray has a 2 gallon capacity and bottom spill trough will hold up to 1/2 gallon. Carboy or other dispensing product sits upon a 16" x 12" sliding tray that moves forward for dispensing and then slides back to allow bottom spill trough to fold up and out of the way. Spill containment is possible no matter where the tray is positioned.
Made in the USA, custom sizes and features are available upon request. Telephone 800-828-6595 or e-mail labinfo@dyna-labware.com for further information.
Dynalab Corp
175 Humboldt Street Suite 300
Rochester NY 14610
Phone: 800-828-6595
Url: www.dynalabcorp.com
Contact:
Christine Leskovar
Customer Marketing Manager
Email: christine@dyna-labware.com
Contact This Company Download Spec Sheet
More from Health, Medical, & Dental Supplies and Equipment