Spherical Ball Nose System provides indexable finishing inserts.
Press Release Summary: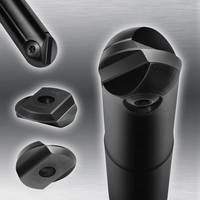 EDGE²® Spherical Ball Nose (SBN) inserts feature 2 usable cutting edges for optimal finish quality and thick carbide construction for heat and stress absorption. Insert life allows for extended, unattended finishing runs with quality surface finishes optimized by grinding process. Also suited for tip-cutting, 3D profiling, semi-finishing, and light roughing, fully thru-hardened SBN cutter bodies designed for strength and longevity as well as minimal runout due to accuracy and centrality.
---
Original Press Release:

New Spherical Ball Nose System Provides Truly Indexable Finishing Inserts, Allows for the Longest Unattended Runs



Truly indexable finishing inserts have arrived with the new EDGE²® Spherical Ball Nose (SBN) system from DAPRA Corporation.



SBN inserts feature two usable cutting edges, delivering both cost savings and the highest-quality finishes. Thicker carbide construction provides better heat and stress absorption, and outstanding insert life allows for the longest unattended finishing runs – with superior surface finishes created by an improved grinding process. The SBN series is also excellent for tip-cutting, 3D profiling, semi-finishing and light roughing.



Fully thru-hardened SBN cutter bodies provide optimum strength and longevity. High accuracy and centrality ensure minimal runout to provide the best finishes and tool life, and a close-tolerance insert pocket produced by EDM removes less body material for improved insert support. Solid carbide and carbide core cutter bodies are available, as are screw-on modular heads and modular extensions.



SBN system tools are part of DAPRA's revolutionary new EDGE²® line, a truly indexable tool family built around high-performance, twin-edged inserts and heavy-duty cutter bodies for superior roughing and finishing. For more information, visit www.dapra.com or contact DAPRA at 1-800-243-3344 or info@dpapra.com.



Dapra Corporation

66 Granby Street

Bloomfield, CT 06002

P: 800-243-3344 / 860-242-8539

E: info@dapra.com

W: www.dapra.com

More from Thermal & Heating Equipment