Spectrophotometer is available with a range of accessories.
Press Release Summary: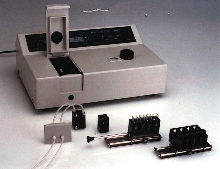 Model 1200 visible spectrophotometer, with 5 nm narrow bandwidth, functions in visible range of 325-1000 nm. Multiple types of cuvette and test tube holders are available. Universal holder can hold sample test tube between 8 to 25 mm. Accessories include water-jacketed cell holder with base and panel for temperature control, longpath 4-cell holder, and 4-cell holder for 10xl0 mm cuvettes.
---
Original Press Release:
UNICO New Model 1200 Visible Spectrophotometer Accessories Affordable Meets Functionality

UNICO New Model 1200 Visible Spectrophotometer Accessories
Affordability Meets Functionality

The Model 1200 Spectrophotometer with a 5nm narrow bandwith offers accuracy, reliability, and a range of accessories. The Model 1200 functions in the visible range of 325-l000nm. There are multiple types of cuvette and test tube holders available. One example is the "Universal" holder that can hold a sample test tube between 8 to 25 mm. Some potential accessories are: water-jacketed cell holder with base and panel for temperature control, longpath 4-cell holder, and a 4-cell holder for 10xl0 mm cuvettes. UNICO offers all of their laboratory equipment at
competitive prices. In addition, UNICO spectrophotometers are ISO 9002 certified and carry the CE mark. Moreover, the Model 1200 Spectrophotometer comes with a standard 1-year limited warranty.

E-